Real Rasslin Reviews: WWE NXT 3rd March 2021
It's time for another NXT review courtesy of Pixc
So it's that time again guys! Another week with me, Pixc and the black and gold brand. Let's see what went down on NXT this week!
So we start with a brief recap of Adam Cole turning on Roderick Strong, the womens tag team title match build for tonight and a backstage segment showing an altercation with Oney Lorcan, Danny Burch and Tomasso Ciampa, with MSK. Ciampa goading them into a match, but unfortunately the two boneheads not keen on putting the titles on the line at this point.

Oney Lorcan & Danny Burch vs Timothy Thatcher & Tomasso Ciampa
Burch and Thatcher start us off with some great mat wrestling to open; the two end up trading uppercuts and then it looks like they may tag out but both continue to brawl. Ciampa makes the tag however and is immediately backed into the champs corner and Oney also joins the fray. The pace livens up a little with these two in the ring, but still an even match. Lorcan is kneed off the apron and Thatcher takes out Burch on the outside. Thatcher is tagged in and they hit a nice double team move resulting in a near fall. Lorcan manages to gain the advantage and bring Burch into the match, Thatcher rolls to the outside and we have a break. Thatcher struggles as we return but eventually makes the tag. Ciampa is comes in firing on all cylinders! Some nice corner clotheslines and avoids the double team attempt to take both out. Some quick tags follow as Burch is dominated by the pair. The two locks sleepers in on their opponents after Lorcan fails to break Thatchers hold on Burch. Eventually, the tag champs take back over and all four men end up in a nice sequence of strikes. With all competitors down, Thatcher sees Imperim looking on and fails to make the tag. This ends up costing them the match and Imperium seem unimpressed with the event. The champs picking up the win.
Great much, interesting development for Thatcher with Imperium, not sure what's going on there. Seems a bit weak to not have the champs look good in beating them.

Winners Oney Lorcan and Danny Burch
Roderick Strong is in the ring next, in a nice shirt! He calls out Adam Cole, wanting answers from the betrayal but Finn Balor shows up. He says its all about the NXT title...well duh! He challenges Adam to face him for the title next week and then claims Roddy will never be a leader and they brawl.
Johnny is with The Way in counselling; Austin claims it wasn't how it seems, Indi is clearly into Lumis and Gargano loses the plot causing the Doctor to focus on him. He goes on a rant and is told to leave, she stands her ground and then shuts the door in his face! Another great segment from The Way.

Cameron Grimes is talking a new name for the CWC. William Regal approaches and he's not happy. He says he has a match against Bronson Reed tonight. Grimes attempts to buy his way out but it doesn't work.
Aliyah vs Ember Moon
Robert Stone is not pleased with the tank on its way down, good to see him squirm! Ember gets us going with some nice arm drags. Aliyah then gets over confident and Ember baits her in with a free shot before taking control of the match with ease. Robert Stone tries to entice Ember to his brand but Shotzi scares him off before Aliyah dives into Ember who catches her continues her dominance. Aliyah manages to dump Ember into the corner but she only gets a near fall. Aliyah then wears down Ember in the ring but she escapes and then hits some short clotheslines before climbing to the top. Aliyah gets up to meet her, but is pushed off. Jessi and Robert Stone try to interfere but fail. Then Ember hits The Eclipse for the win! I love that move, there's your pinfall and winner Ember Moon!

Good match, I see a lot of potential in Aliyah, but I fear she is more like Carmella or Dana Brooke than Bayley or Becky Lynch. The Robert Stone brand seems very stop start and as a result I am not really interested in it.

Winner Ember Moon

Next Timothy Thatcher is backstage telling Mackenzie that Imperium and him have history, which they keep trying to throw it back in his face. Ciampa says its in his past and we're done here! Interesting developments, wondering if this is his Progress time? Let me know in the comments if you know, maybe there is some footage I can watch?

We see the womens tag teams warming up for the title match up next apparently. This is followed by Toni Storm video package with Io Shirai building for their title match next week.

Nia Jax & Shayna Baszler (c) vs Dakota Kai & Raquel Gonzalez (Womens Tag Team Titles)
Nia tags herself in to face Dakota Kai, Nia throws her around. She then tags Baszler in and Baszler mocks her before going for her traditional arm breaking move. Kai slaps her and then gets a roll up in before Shayna comes back. Kai ends up on the outside and all four women end up facing each other on the outside and we enter everybodies favourite section picture in picture! Gonzalez comes into the match here. Shayna works her arm. but Gonzalez uses her power and tags in Kai. Nice double team but Shayna immediately takes control again dragging Kai to her corner. Nia tags in and chokes Kai on the ropes as Gonzalez reaches for the tag. Shayna comes back in, but Gonzalez finally manages to get back in the match. They hit a nice double team on Shayna as Kai comes back in, Shayna drags her off the apron. Nia is back in next applying a stretch to Kai, she tries to escape but Nia headbutts her down again. Kai still kicks out. A slam and knee double team from the champs to Kai, looked a bit of a bad landing. Kai hits two kicks to get her to the tag. Gonzalez is in and finally we get Nia and Gonzalez in the ring. Gonzalez gets the better of her until Shayna comes over to distract. Shayna gets the tag and gets a near fall before locking on a sleeper which Gonzalez escapes. Gonzalez tags in Kai. Gonzalez looks disappointed then eventually comes in to dispose of Jax, who clotheslines her out of the ring. Meanwhile in the ring, Kai struggles with her knee. Eventually she is in the kokida clutch but battles out then somehow back in it, didn't seem a sensible way to go from here. Nia and Gonzalez end up taking each other out on the outside, knocking out the referee in the process. Shayna locks in the clutch again, this time however with no referee available to make the decision due to being taken out earlier. Kai is clearly fading, for some bizzare reason Adam Pearce shows up motioning a referee to get down there and call the match. Instantly he checks Kai's arm and it flops down, Shayna is declared the winner. Commentary whinge about him being a Raw referee and what is Adam Pearce doing here.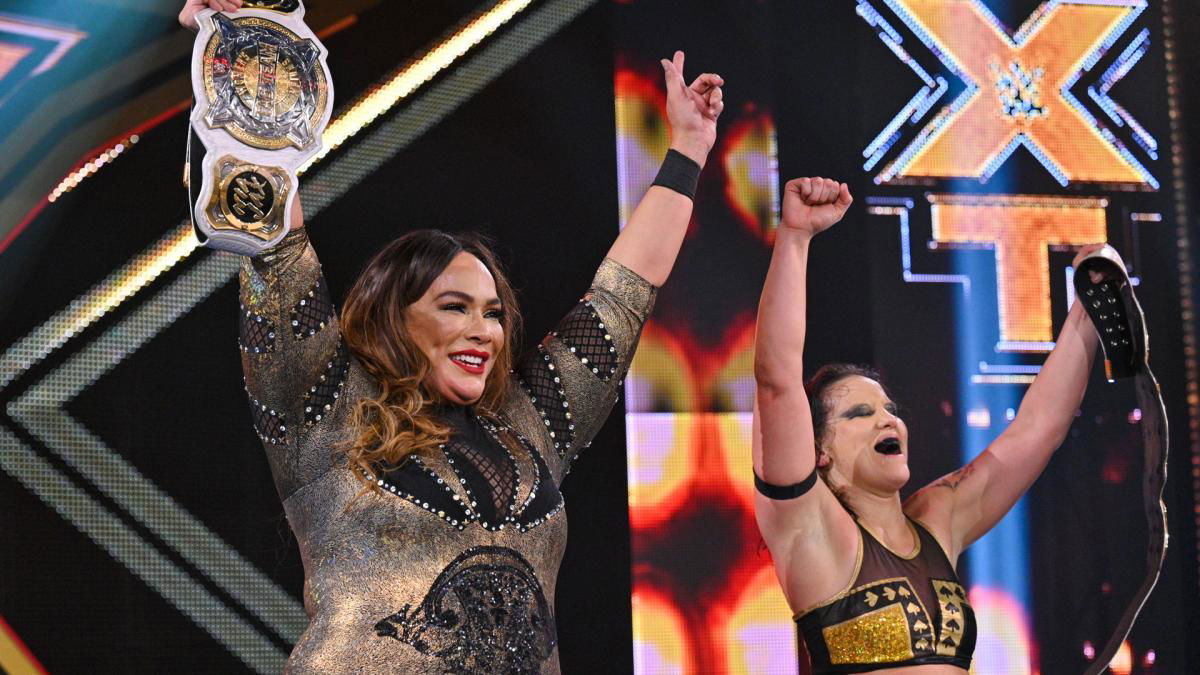 Image courtesy of essentiallysports.com
I have to agree this match felt like a waste of time. Why have Dakota Kai and Raquel Gonzalez do so well and win a tournament, if you aren't going to do something with them after? This would have made the tag titles relevant, would have helped to break up this boring tag team that nobody wants to see anymore; but no let's keep them dominant because Shayna can keep an eye on Nia so she doesn't injure anyone, and she won't be annoyed that she isn't in the raw womens title picture because we can't give Charlotte Flair a rest! Sorry but the match itself was alright, just terrible booking unless something good happens following it!

Winners Shayna Baszler & Nia Jax (c)
The therapy continues with Johnny gone, but Candice appears to be channelling him. Indi has some nice lines in this, it's funny how her and Austin are about Lumis, great stuff. The Doctor gets rid of Candice and Indi and says this is a safe space, spooky atmosphere comes in at this point and I was half expecting the Dotor to turn into Lumis here. To be continued!
LA Knight, formerly Eli Drake, is next. He reminds us he said it was going to be on his time and that is apparently now. Seems a bit odd to do it now.
This is followed by Swerve in his studio. He's not happy and wants his opportunity!

LA Knight makes his way to the ring next. He waffles on about nothing if I'm honest. Nothing special, prove me wrong!
Bronson Reed vs Cameron Grimes
Grimes dancing to the ring flashing the cash is gold. Bronson is not impressed though. He doesn't take Grimes up on his offer and sucker punches him. His power seems too much for Grimes and almost gets a quick win following a banzai drop. Bronson gets hit with a nice spanish fly by Grimes and manages to kick out. Grimes makes little impact with his offense and Bronson takes control. Bronson dives to the outside stopping Grimes from escaping the match. Then L A Knight returns to distract the referee and grabs Bronson, which buys Grimes the time to hit The Cave In! Grimes wins.

So I feel this is another bad booking decision, not 100% but though I enjoyed the match, Grimes winning in this way makes sense yeah but Bronson losing when he recently said he wants a title match does not. LA Knight going after Bronson makes 0 sense. LA Knight taking money off Grimes possibly, but then I don't think Bronson should have lost. I like Grimes but this felt a bit poor. Maybe I just need to see Grimes giving LA Knight money later to actually feel it was worth it.
Winner Cameron Grimes
We see Adam Pearce and William Regal chatting animatedly backstage...developments! Kayden Carter is backstage talking to Mackenzie about Xia Li, with Kacy apparently taken out, Kayden is out for blood, next week looks like she will go for it!

A recap of Escobar vs Kross. showing the destruction from their match.

Next we are back to therapy as Austin is alone with the Doctor, she says she spoke to Lumis and he said all these awful things about Austin Theory, and Austin breaks down and cries storming out. Gargano comes in asking what she did to him, then pays her and thanks her for sending him downhill fast basically. It was all an act, brilliant!

Ever-Rise vs Breezeango
We were supposed to have this match but Legado del Fantasma took Breezeango out and then Ever-Rise tries to thank them only to get attacked by Escobar when they try to escape. Escobar is here to tell us last week must not be mistaken for weakness. A lot of pomp and circumstance if you ask me. Bunch of crybabies!

No Contest (another James special)
Finn Balor vs Roderick Strong
Strong comes out to new music and is fully free of the undisputed era garb. The two grapple to start with some nice back and forth. Balor grounds strong for a while with a headlock but Strong breaks it in the corner and hits a nice backbreaker. Now we enter the dreaded picture in picture, just hang on while I squint at this! Strong had a good spell of dominance early in this section, but Balor did get some offense in. Back to full screen and Balor quickly regains control of the match. Strong breaks out of a hold with a powerslam, he gets another backbreaker in and a near fall follows. Strong fights out of another submission, making it to the ropes. Balor gets some nice running chops, but eventually Strong comes back with a clothesline. Strong gets a near fall after a nice powerbomb. Balor, out of nowhere, hits slingblade but Strong counters his next move into the Stronghold. Strong pulls him back into the middle countering Balor's attempt to escape into an innovative pin, but only gets 2. Balor gets a double stomp and then manages to hit his signature sequence, finishing with the coup de grace and the 1916! Balor wins.
Image courtesy of WWE

As he stands in the ring, Adam Cole appears at the top of the ramp. Brilliant match, looking forward to their title match next week. I'm intrigued to see where Strong goes from here, that was a good showing for him. I get the feeling Kyle may return in a similar vein, probably soon, either to cost Adam Cole the title or if not maybe Roderick Strong does. See options for triple threats down the line also, especially with Karrion Kross looming.

Winner Finn Balor

So guys, what did you think of NXT? I'm keen to see what happens with the clear break up of Undisputed Era. Will Austin Theory be ok? Dexter Lumis our next challenger for the North American title? A highlight for this show was really the build; the wrestling is always on point in NXT but tonight, we laid some foundations for new storylines or built up current ones. I'm curious about Imperium and Thatcher.
Thanks for reading guys, Pixc out!