Real Rasslin Reviews: WWE NXT 24th March 2021
Pixc gives us all the action from this weeks NXT.
Welcome back guys, for another week of NXT action, nice to see a bumper show this week. Building towards Takeover Stand and Deliver so let's see what went down.

We started NXT with a recap of what went down with Karrion Kross and Finn Balor last week. We then see Adam Cole being escorted into the arena by security it seems. Obviously precautions after the shenanigans with Kyle O'Reilly. I'm keen to see what resolution William Regal has in mind for this, though we can expect a match at Takeover Stand and Deliver surely?

Io Shirai (c) & Zoey Stark vs Dakota Kai & Raquel Gonzalez
We get started with a tag team match involving the champ, Io Shirai and the new girl, Zoey Stark, taking on the first ever NXT womens tag team champions, Dakota Kai and Raquel Gonzalez. Gonzalez and Stark to start us off. Gonzalez fends Stark off in the intial lock up with ease. Stark comes back at the second try but she is overpowered still. Stark looks good, even if you always expect Gonzalez to use her strength to squash the momentum. Kai comes in cocky with attitude but Stark fires back and we get our first glimpse of Io as she tags in. She has Kai pinned in the corner but Gonzalez distracts her to allow Kai to get back into the match. Stark comes back in. Kai is soon breaking free to bring back in Gonzalez. I love how Stark is not fazed by this, a nice double team as Kai comes back in. Here we go picture in picture, seeing as it is being forced on me, how is that a side of ranch, wow massive keg of a thing! Stark is still being taken care of by Gonzalez and Kai, bu they are unable to put her away. Gonzalez is pushed away just enough for Stark to get the tag to Io as full screen action resumes. Io uses Kai's leg to beat Gonzalez and looks like she is having the time of her life, showing them how it's done. Stark comes back in and dropkicks Gonzalez to the outside and then somehow manages to fend off both opponents using the ringpost to do some damage. Gonzalez flips the match back in their favour slamming Stark to the mat but not before booting Io off the apron mid move, bossing it! She picks up the win and Io slides in to the ring as they scream at each other. Kai distracts her taking a blow allowing Gonzalez to get the boot in again. She slams Io on the announce table, it doesn't break.

This was a great showcase of Stark again, I'm not sold on her look but she is definitely great in the ring. It built the rivlary with Io and Gonzalez nicely but still had a sprinkle of the obvious chemistry and bond between Gonzalez and Kai. Keeps me thinking about if they are going to push the rift between the two, bound to happen as Kai has been around for longer and many would agree she should get the title.

Winners Dakota Kai and Raquel Gonzalez

We are shown footage of Adam Cole finding Kyle O'Reilly in a gym and attacking him. Followed by Kyle being interviewed with security either side. Roderick Strong comes to chat and Kyle says there is no us, prompting Roddy to say both him and Adam Cole can go to hell.
LA Knight backstage building hype for his match against Bronson Reed, is it just me or does this guy just waffle on too much about nothing?? He grates on me so far.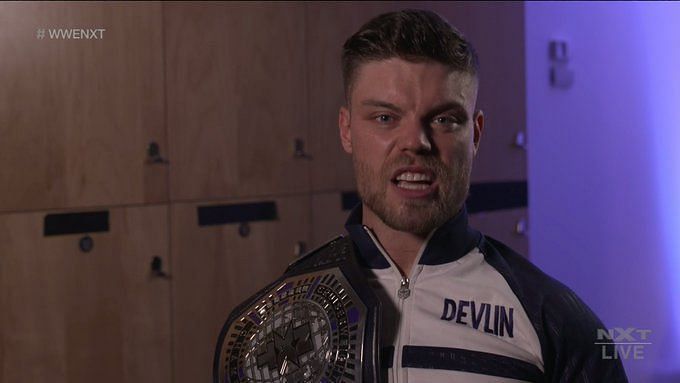 Image courtesy of Sportskeeda

Jordan Devlin is up next, hyping himself up and claims he is going to make an example out of Kushida tonight, ooh nice, look forward to that one.

Bronson Reed vs LA Knight
LA Knight pokes the bear in Bronson, who snaps and we get the obvious power advantage early on, bulldozing LA Knight down and slamming him. The chops, oh my! Bronson seems to have an answer for everything until LA Knight comes in from the apron to take the big man down. He talks a bit of trash and we are shown the action from commercial break where he escaped certain disaster pushing Bronson into the steel steps. Bronson comes back in with some clubbing blows but LA Knight manages to get back on top but Bronson tells him to bring it and this is a nice bit of back and forth resulting in a near fall for LA Knight. Bronson builds up some steam squashing him in the corner before eventually going up to and allowing LA Knight to get back in, he is unable to capitalize however and Tsunami splash, boom! Bronson gets the win.

Bronson wins, great stuff, I enjoyed this a lot more than I expected, I'm glad Bronson won as I feel it would seem unrealistic to have him lose, not just as he is getting his revenge for the loss LA Knight cost him against Grimes but also he is a big guy and LA Knight hasn't really done anything to warrant him being the victor, he isn't eastablished as a sneaky underhand heel or a future star really. He reminds me a tad of The Miz and EC3. He has potential but I'm not convinced he'll reach it yet.

Winner Bronson Reed

We have an update on Danny Burch who has injured, causing the Tag Titles to be relinquished. Oney Lorcan is out for revenge, taking on Karrion Kross next. We also get new champs crowned at Takeover Stand & Deliver night 1, MSK vs Grizzled Young Veterans vs Legado del Fantasma. Intrigued to see who comes out on top.

Karrion Kross vs Oney Lorcan
Lorcan comes straight after Kross, clearly not making much impact and is soon tossed from the ring by Kross. Kross goading him, chasing him around then Lorcan fires back. Kross again throws him out of the ring. Lorcan picks up some momentum but it doesn't last, it highlights the gutsy performance we come to expect from him but I think it's all in aid of building Kross for his match vs Finn Balor. Lorcan escaping from a submission was pretty innovative next but Kross really is lording it over Lorcan, he goads him again and Lorcan fires up emotionally charged by the situation. Kross eventually dodges Lorcan and comes in with his Saido Suplex and elbow to the back of the head for the win. Predictable.

Nothing much to say on the match it was ok but I can't get behind Kross. He addresses Balor after the match, claiming he had malicious intent towards Scarlett. Kross is on a angry hype. Balor claims he fights with emotion and he is sloppy. He reckons Kross will not be able to master them in order to beat Balor, so he is going to drown him, brilliant words from Balor. Intriguing.

Winner Karrion Kross

William Regal is up next, telling us about Johnny Gargano's opponent for Takeover Stand and Deliver. Well sort of, we get a battle royal next week between 12 top potential contenders for the North American title. Some notable names in here including Austin Theory from The Way. I think most will be expecting Lumis to win this, as much as Regal wants to give the opportunity to as many people as possible, logically Lumis is the most likely option here. Pete Dunne has been touted as a potential favourite and I doubt people would be upset if it came to pass.

Kushida is responding to Jordan Devlin next, he gives him his dues but claims it is all about the competition, tonight he finds out what it is like to face the best technical wrestler in NXT. Nice work from Kushida should be a great match.

Drake Maverick makes his way to the ring for his match and we are shown a clip of him getting angry with Imperium about Killian Dain, but Walter arrives and shuts him up. Hence this contest up next.

Walter vs Drake Maverick
Drake attempts to start out well but Walter quickly dispatches him with a powerbomb and a submission. Apparently a referee stoppage, weird. This match was a pointless waste of time, why did Walter need to face anyone let alone someone who he just squashes in less than a minute?
Image courtesy of comicbook.com

Ciampa makes his way to the ring and challenges Walter to a title match, claiming he mispoke the title intrigues me. It breaks down and Imperium beat him down, Walter ripping his necklace from him and confirms he will see him at takeover.
Winner Walter

Pete Dunne has something to say next, earlier you heard it from Kushida and now I remembered who said it first, it was Pete Dunne, stating he is the best technical wrestler in NXT. Now hear me out guys, I might be using too much logic here, but Lumis seems logical to challenge for the title, but what if it is just a way of building to a different feud, Kushida vs Pete Dunne. Let's see if that holds any weight.

Jessi Kamea is apparently injured and Robert Stone has gone back to his old friend in Mercedes Martinez to replace her in their tag title match. Brown envelope in hand Aliyah might have given herself a much better chance of winning those tag titles.

Well, Johnny is not a happy bunny, the North American Champ is upset he will only have 24 hours notice of who he will face for his title on night two, because the gauntlet eliminator will be on night one. I honestly don't see the issue, they will not be 100% Gargano think on!

Mercedes Martinez & Aliyah vs Ember Moon & Shotzi Blackheart (c) (NXT Womens Tag Team Championship match)
Martinzez and Moon to start us off, Moon eventually tags Shotzi in and the two double team Martinez, Stone gets up on the apron distracting Shotzi allowing Martinez to get backk on top. Aliyah comes in and gets a near fall. Shotzi fights out of the corner but Ember is knocked off the apron and the challengers continue their momentum. Another near fall this time for Mercedes. Aliyah fails to stop Shotzi making a tag and Ember comes in hot! Martinez breaks up the pinfall attempt. She takes a DDT from Shotzi as Aliyah gets hit with the Eclipse and still your tag team champions, Ember Moon and Shotzi Blackheart!

Hate to say this, the match wasn't bad, but it was definitely filler. Not the best way in my opinion to build the tag team champions run, but then again if Vinnie Mac is not co-operating, what can you do. Throwing out title shots for anybody and not really giving it proper build. I honestly think them having Kai and Gonzalez drop them so quickly has hurt the belts going forward. If they were going to have NXT Womens Tag Titles why not just put the belts on Ember and Shotzi from the get go? I still can't believe they didn't see the value in having an NXT team defend the other womens tag titles across all three brands. The future is now obviously doesn't really apply.

Winners Ember Moon & Shotzi Blackeart

Back in the locker room, Roderick Strong is packing his bags, clearly not impressed with recent events and Cameron Grimes is rubbing it in somewhat about Undisputed Era breaking up claiming he could sell the rights to Grimes so he can make it a success again, Roddy isn't amused and beats him down leaving the locker room and Grimes behind.

Ember and Shotzi are asked in Regal's office corridor, when they are asked about their win. They are interrupted by The Way and finally it begins, this is "the way" to make them relevant some proper build, hopefully NXT are about to show how it is done.

Jordan Devlin vs Kushida
Devlin looks to be a bit wary early on, clearly not underestimating Kushida. Kushida shows off his technical prowess, then his striking ability with some kicks. A jawbreaker from Devlin and a nice moonsault to the outside as we head into some picture in picture a nice sequence to butter us up before these obtrusive reptitive subliminal messages from across the pond, utterly useless to me as a brit except sometimes good for a laugh. These stutter for me, so I'll just say that Devlin seems in control getting a pinfall attempt in off a leg drop. a suplex and Kushida still hanging in there. Bit of a slugfest with Kushida getting in his springboard elbow, then slamming the arm as he does, brutally into the canvas. He goes for the hoverboard lock but Devlin gets to the ropes. Devlin hits a nice cutter that reminds me of Leon Ruff, brilliant stuff bouncing into the ring really fluid. He goes for the Devlin Side but was unable to get it in due to the damage done to his arm. He lifts Kushida up to the top where he notices Legado del Fantasma at the ramp. Devlin ends up getting sandwich between the two henchmen and Santos Escobar on the outside, but the referee counting galvanizes him to back in the ring. Kushida then knocks both members of Legado from the apron with his springboard and Devlin manages to roll up Kushida for a win with a nice bridged pin.

Kushida is livid takes both Legado del Fantasma out while Santos Escobar advances on Jordan Devlin. The two are trash talking getting in each others faces when .. .. sweet chin music hits, HBK is here in NXT! Wow, that was a rush, he stands at ringside, then pulls a ladder out, throwing it in the ring, saying nothing but pointing at them both, indicating this is going to be a ladder match! Oh hell yeah. Brilliant gotta love the way this was done.

Winner Jordan Devlin
Image courtesy of GiveMeSport

Up next we see Adam Cole getting a dirty look from HBK. William Regal is giving them the consequences or rather the solution to the issues, with Adam Cole and Kyle O'Reilly. Adam Cole is giving it both barrels telling us he is not happy to sit on the sidelines, not to Kyle befriending Finn Balor. Don't sleep on William Regal though his emotion early on was great. Kyle responds, bigging up Undsiputed Era and what they did but claiming he grew up and took responsbility for his actions, we became better wrestlers and stars, but Adam is still the same "arsehole" that came in, he hasn't grown basically. Kyle has become a better person, what?! Can't see many people liking this from Kyle, bit weak I think. I can appreciate the polar opposite side. They go for each other but security hold them back, boring!
In summary for my birthday all be it belated as I was busy and didn't watch it live, this was a pretty good show. I think the womens action when I watched was good but thinking upon it at the end of the show forgettable. The hype and build for the Takeover Stand and Deliver, the impact of that HBK interjection into the Cruiserweight Title Unification match, priceless! I am intrigued to see what Roderick Strong does next, is he taking a break? Is he moving up? I want to see my Pete Dunne vs Kushida face off. I am stoked we are getting Io Shirai vs Raquel Gonzalez, I am looking forward to that 12 man Battle Royal are you?
Thanks for reading, once again I'm Pixc and I'm out!