WWE NXT 23rd November 2021
Pixc is back to take you through another week of NXT!
Pixc here back with some more NXT. I'm pretty excited for the main event this week. Seems we will have a good indication of whether Johnny Gargano is likely to stick around. I hope he does stick around, but to be fair what is there left for him in WWE, it's not like anyone will have any faith in him being booked properly. Anyway, on with the show.
We start weirdly with a bang, Grayson Waller interrupts the WWE then, now and forever graphics to get us started. He takes shots at the crowd for booing greats like The Rock, John Cena and Roman Reigns. Seems Vince is trying to integrate NXT more with the main roster whereas Triple H was differentiating and in many people's opinions succeeding. Ciampa's music hits and he storms out, not impressed with the comments made.
Grayson Waller vs Tommaso Ciampa
Ciampa looks to start off hot but Waller hides in the ropes. We finally get going and Ciampa doesn't take long before he is stomping a mudhole in Waller. A couple of knees for good measure and Ciampa is in motion with the time to sleep taunt. This continues his offense pummelling Waller, who somehow manages to get a little offense in here turning things in his favour.
It isn't long before Ciampa gets another shot in but Waller manages to wrestle control of the match back quickly. Waller takes off his version of the people's elbow, which fails after his fancy R-Truth like dance moves, Ciampa takes over from here. Ciampa throws him over announce table and picture in picture beings. As I squint at the action, Ciampa seems in control still. Waller gets some offense in, honestly seems a little weird how good he is being made out to be here.
Both men are down once we return to full screen following a desperate counter by Ciampa. A slugfest ensues when they rise and the two enter a nice sequence which Waller seems to look good in, getting a number of near falls. Waller is on the turnbuckle when Ciampa manages to get a big air raid crash from the top. He doesn't get the win and doesn't let up, adding more punishment. Waller however fights back and he hits an elbow drop from the top which gets him another near fall.
A really smooth move ends up with Waller getting hit by the Willows Bell, followed by a Fairytale Ending, Ciampa picks up the win at last! I have to say I'm not convinced that Grayson Waller should have looked that good against Ciampa, it's not believable for me yet. Ciampa definitely put him over here, but glad he got the win. I wonder if that is the plan for Ciampa until they build Bron Breakker to take the title from him, put over the younger talent but not lose in the process.
Winner Tommaso Ciampa
We cut backstage next and LA Knight is asked to comment on the match we just saw, he clearly has no love lost for Grayson Waller with their rivalry, but he is quite harsh with his comments. Cue Joe Gacy, he interrupts the interview telling Knight we should be building each other up not tearing each other down. They set up a match with Knight even getting in a Ruthless Aggression reference, great segment. Two guys with great character-building potential if you ask me, slight whiff of Vince McMahon on this one though. I think it will likely make them more useable on the main roster in time.
Toxic Attraction are backstage next and they are not happy about being talked to. They are soon joined by Dakota Kai who seems to be in a daze. They walk past an absolute mess on the floor, commenting that it looks like a rage room, to me this didn't make sense but it is shown to be Kay Lee Ray smashing things up again. Interesting foreshadowing here, I think.
Cameron Grimes makes his way to ringside looking a bit down. Time for a change? He talks about his backstory, a small town, getting pushed down and showing people he is good enough. He says Duke Hudson made him angry, embarrassed him with a very slight cut, not drastic enough in my opinion to warrant this extreme reaction. Duke doesn't seem keen on coming to the ring. Grimes challenges him to a hair vs hair match at War Games. Duke accepts.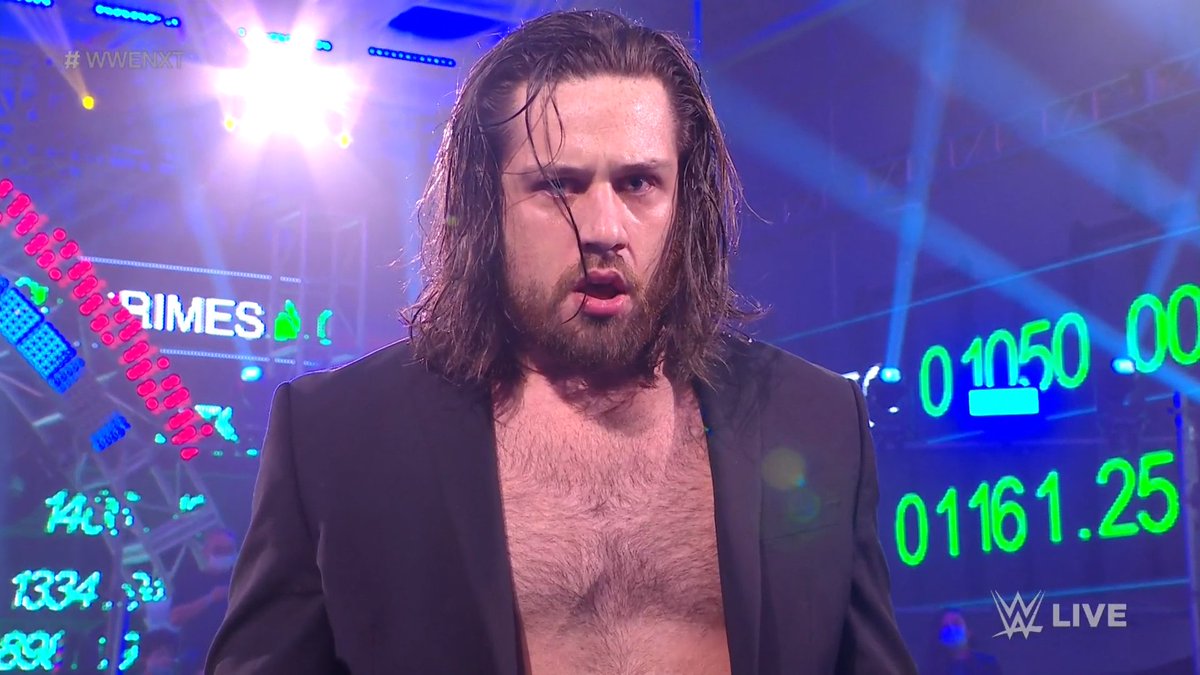 Pete Dunne is hyping up the main event title match. Claiming Gargano has stood in his way too many times and he is going to make Carmelo pay his dues. This is followed by Indi and Persia with McKenzie, Indi gives an update on Dexter Lumis, she is pretty upset that Trick and Carmelo took away her man's ability to draw. Persia offers to handle business alone again but Indi dedicates the match to Lumis.
A new lady is heading to NXT it seems, a blonde with a flair for tennis. A daddy's girl that wants to takeover NXT. Looks like she is going to be known as Tiffany Stratton, let's wait and see if she's any good before we pass judgement, but I'm intrigued at least.
Indi Hartwell & Persia Pirotta vs Kacy Catanzaro & Kayden Carter
Low key feel this is a number one contender's match for the tag titles if I'm honest. I'm so torn, Natalie Imbruglia just started singing in my head! My favourite women's tag team in NXT vs a team that I feel is destined for greatness, especially with Persia looking so dominant recently. Anyway, back to the action.
Persia starts off strong and goes to tag Indi. Seems she is out of it though as shelooks in dreamland and when she eventually tags in, she still looks out of sorts. Indi is double teamed in the opposite corner but eventually manages to bring Kacy over to their corner. Persia comes in and is dominant again keeping Kacy from her corner with her strength. Kacy manages to avoid a collision in the corner which causes Persia to collide with the ring post. She heads for the tag to her partner, but she's once again in dreamland and barely notices the tag. Indi then comes in looking off her game and eventually Kacy & Kayden pick up the win.
For a match that could have been amazing this fell a bit short for me because they were focused primarily on the storyline rather than the wrestling. Indi and Persia can both go but in this it was all about Indi's acting, this was good but personally I'd prefer to see these four put on a great match, so cheers Vince, hopefully they meet again in a proper battle!
Winners Kacy & Kayden Carter
Santos Escobar is talking about the first words he heard in this business, "May god bless you with luck" and he has always been blessed by them.
Chase University are on tour. Andre Chase bumps into Cameron Grimes and takes a dig at Grimes losing some of his hair and Grimes tells him to go to hell, not much meat here just a little bacon sprinkles if you will.
Santos Escobar vs Malik Blade
Should be an easy win for Escobar here. Malik uses his speed after a while to try and get control of the match but Escobar is aggressive in taking it back. Escobar throws him into the corner and pumps himself up before charging into the corner. He then lifts him up for a Phantom Driver for a quick, easy win as expected for Santos Escobar.
Definitely a filler match, oh well here it is, a bit of build. All be it for the tag team titles, Elektra briefly takes a shot at Xyon Quinn then Raul Mendoza takes the mic and before he fully explains Kyle O'Reilly and Von Wagner come out to dispute their victory over them the other week. Von Wagner's foot was on the ropes, Imperium interrupt proceedings to assert their position as champions, claiming neither team can beat them so when you two have sorted out who will face them, they will face the winners at War Games.
Winner Santos Escobar
It's time for some women's War Games build next as Zoey and Io come to discuss that with Cora Jade, Raquel Gonzalez comes barging after them as Io motions for her to back off, seems there is still some animosity between the two. Cora proves her level head as she's martialling the troops, saying the 'will they co-exist thing?' is boring, but adding we need a fourth as Zoey Stark is injured. My money is on Kay Lee Ray but I think it could be Sarray.
Tony D'Angelo is backstage next, being quizzed about the main event. He has been wrestling guys around that level and looked good doing so. He's taking bets for the match and is certain Carmelo is going to win, he also calls Pete Dunne, Petey Poppins, oh my! He tries to get McKenzie to bet then adlibs sending it back to commentary or rather "back to the three stooges at the desk" funny stuff, great character building.
Mandy Rose vs Cora Jade
Big match for Jade here. Cora keen to prove herself but Mandy is clearly out to show her who is boss. Jade gets the strike in the corner but Rose holds her and slams her out of it. Rose keeps up the offense and gets a near fall. Rose puts Jade in a leg scissors and pulls her neck back, she has to kick out though as Jade gets a near fall.
Jade gets a nice sequence of offense resulting in a near fall then heads to the top. Her drop kick misses by a long way though. Kay Lee Ray then arrives at ringside, smashing her bat on the ring. Mandy Rose is distracted and she is cheekily rolled up and pinned by Cora Jade! Another sneaky win for Cora Jade, but love the distraction from Kay Lee Ray.
Quite predictable to give Cora Jade another sneaky win, it's becoming her signature move. To be fair I think Mandy Rose's credibility as champion is not great anyway so I'm not sure it matters she lost. Glad Toxic Attraction weren't out there. Feels like she will descend from over confident into snide heel tactics before long.
Winner Cora Jade
Trick Williams is talking about the disrespect, but Carmelo is saying it should have already stopped and takes shots at his two opponents. Really like Carmelo, but got to say I feel the fact he is pushed so quickly doesn't fill me with great confidence, maybe I'm too used to Vince getting bored and dropping talent after a short burst of a push.
Joe Gacy is up next as he talks about community, Haarland's hand claps his shoulder and he leans into it like a comfort blanket, what a weirdo, I love it!
The face team for women's war games is celebrating Cora Jade's win and she asks if they knew Kay Lee Ray was coming out, they didn't. Kay Lee Ray arrives says "I'm in and I'm in the advantage ladder match too!" Everyone seems happy and accepts it so easily, seems a bit odd considering Io's temperament and Raquel being a big character too.
Grayson Waller attacks LA Knight on his way to the ring to face Joe Gacy. They brawl to the backstage area and Joe Gacy attempts to make an apology. Diamond Mine interrupt him and he takes a shot at Roderick Strong, the division that occurs with the weight class of the cruiserweight title, a clever way to incite a match between the two in fairness, I do feel Vince doesn't like the cruiserweights anyway so why not strip Roderick Strong of the belt and let a company who appreciates it use it, better yet, use all the talented cruiserweights and make something of it? Oh wait that would require logic and creativity, waste of time expecting that with WWE isn't it. Malcolm Bivens says he'll get the match booked for War Games, Joe Gacy vs Roderick Strong. He instructs the Creed Brothers to take out the trash but Haarland comes into the ring and they soon make their exit. In amongst this, we find out Ivy Nile is scheduled to compete, good I wonder who against?
MSK are driving next, they get caught "speeding" they are about to get arrested it seems but a speeding car goes past, they are saved, next time drive faster ha!
Ivy Nile vs Yulisa Leon
Leon dodges Nile in the early going, she dances and then gets caught and Nile pins her down doing push ups on her. Nile just showing her technical skils and overpowering her opponent. Leon looks completely out of her depth. Leon rolls through but Nile counters it into a dragon sleeper and she taps straight away. Another dominant display, even if it was against a rookie.
image courtesy of WWE YouTube
I can't see the point in having her dominate rookies who we don't even know or have entrances for. I think the only explanation is they are protecting both her and the wrestlers who aren't facing her. I would hope to see her in more competitive matches soon though.
Winner Ivy Nile
Solo Sikoa gets some air time next, as he is here to fight anyone.
Grizzled Young Veterans are up to their dirty tricks again, stealing a wallet from a guy backstage, this is interrupted by Grayson Waller and LA Knight continuing their brawl.
Boa is up next, claiming Mei Ying has passed on her spirit and her strength, why? Did she get released? This now makes no sense to me and I've lost interest to be fair. I'm sure most people lost interest soon as Xia Li was removed from it. For those who might care, it seems he needs to learn to control it first though.
Grizzled Young Veterans vs Jensen & Briggs
Jensen is immediately able to take control and they double team Drake. Jensen is back in and with a shimmy and a shake, hits some strikes. Gibson makes a tag without Jensen realising it and takes advantage coming in to take control of the match.
We cut to backstage as the brawl is still going on, pointless, focus on the action please!
Gibson manages to grab Jensen to stop him making the tag and keeps his team on top. Drake struggles to keep him away so Briggs tags in and is firing on all cylinders. There is a little confusion with the referee, involving a knee injury. Briggs takes out Gibson and then the referee gets wise to it and Jensen and Briggs finish Drake off. Nice win for the new guys, kind of worried for Grizzled Young Veterans, clearly one of the best teams on the roster but getting nowhere near them titles.
Winners Jensen & Briggs
Something to look forward to for next week, women's War Games advantage ladder match, Dakota Kai vs Kay Lee Ray. Nice, only fair Kai competes in it, can you realistically see any of Toxic Attraction risking themselves in this match or even coming close to winning it? neither can I.
Johnny Gargano vs Pete Dunne vs Carmelo Hayes ( c ) (North American Championship Match)
Carmelo throws Pete Dunne from the ring then comes off worse early against Gargano, as he starts to get back into things, Pete Dunne comes in and cuts him off. Gargano gets back involved and looks for the Gargano Escape but Dunne is quick to get out of it. Carmelo is back on top next and takes the time to taunt like a baller, are you watching MVP? Dunne then gets control putting both of them in a Boston crab. Trick steps in to rescue Carmelo by dragging him out. He returns to the ring to down them both with a springboard dive. No luck on the pinfall though.
Gargano comes back with a bulldog clothesline combo on his opponents. Then a DDT with a kick, plenty two for one specials going on. Gargano hits a hurricanrana on the outside, starting to get a little worried this is Gargano's final match with NXT. He faces up to Trick as we go into picture in picture, get your magnifying glass ready guys. I did manage to squint and see an epic double damage move by Pete Dunne. He has Gargano tied up and Carmelo comes over, he suplexes Carmelo and he snaps Gargano's legs at the same time, brilliant stuff!
We see the slingshot spear to Carmelo but Dunne stomps on the fingers next and somehow Gargano comes out on top reversing a potential Bitter End into a DDT, no luck on the pinfall but another great sequence. Carmelo gets a nice sequence in next doing some double damage dropping Dunne onto Gargano and again only getting a near fall.
Just a great flow in this match as Dunne pounces on both opponents targeting limbs. Gargano then takes a shot at Trick. Dunne is waiting for him, he swats him down as he dives towards him. Dunne then looks set to make it count and goes for the cover but Tony D'Angelo pulls him out and throws him into the steps. Carmelo picks up the win finishing the job and beating Gargano. Expected him to retain but feels a bit cheap he did it this way.
Now can I just say this really feels like they are forcing the new generation down our throats somewhat. It was clear Dunne and Gargano were both better in the ring and deserved the victory, Carmelo is one of the best of the new guys in fairness but just seems rushed to the top in my opinion.
As the match is over Trick goes to thank Tony D'Angelo and they get mixed up with their handshakes, before being knocked aside by the brawl between LA Knight and Grayson Waller. Everyone gets involved and the new guys look set to destroy Gargano's arm when Ciampa's music hits. He saves the day and they dispatch the new school to the outside, Trick isn't in shot when the two teams face off, seemingly not considered to be worthy of being in it. Gargano is finally helped up and DIY Chants ring out, then Bron Breakker's music hits and he makes his way to the side of his fellow rookies, "WAR GAMES!" they charge the ring and NXT goes off the air with a brawl.
Winner Carmelo Hayes
One comment on the ending before I summarise, where the hell is William Regal. War Games... we need Regal to announce these matches, it's a tradition, it works, it's WAR GAMES DAMMIT! Anyways, this week felt like a pretty good show, the main event was a major highlight and although it kinda feels spoiled by the interference, it was a brilliant match. I think we got the answer for Gargano's one week extension, they wanted him in the WAR GAMES match. I'm starting to dig some of the new guys but I think they needed a slower build, guess it's hard to do that when you have zero creative and someone's making you release most of your talent asap, unlucky Vince!
See you back here next week for another round of NXT, the final before WAR GAMES!
Pixc Out.