Real Rasslin Reviews: WWE NXT 20th April 2021
Pixc gives us the low down on the events of this weeks NXT!
Your NXT correspondant is back for another week of NXT action! I'm not sure what to expect this week so let's just dive straight in.

We start the show with Kyle O'Reilly in a denim jacket and beach trilby, this is bizzare.

Kyle feels good to be done with Adam Cole and then talks about finding his killer instinct. He weighs things up and decides on Karrion Kross, but the country twang sounds and Cameron Grimes interrupts him. He tries pitching a business partnership and Kyle seems to buy it but then ends up asking to celebrate being cleared to wrestle by fighting someone, Cameron Grimes! Great segment.

Next up Sarray arrives in NXT and Zoey Stark comes asking to be her debut match, it all seems genuinely sweet and I'm sure that will be a great match.

This is followed by LA Knight, hyping himself up for his match vs Lumis next.

LA Knight vs Dexter Lumis
LA Knight starts off unsure how to handle this, they lock up and Lumis pushes him to the corner where LA Knight switches it and Lumis does the same.

It is mentioned about him bailing on his team mates last week. LA Knight takes a breather on the outside, then Springboards into the ring with a Shoulder Tackle but Lumis is straight back, he then stalks LA Knight into the ring post. LA Knight once back in the ring hits a Neckbreaker as Lumis bounces off the turnbuckle.

We hit picture in picture next, gotta get them massive adverts in! Luckily, nothing eventful really happens here. LA Knight continues to work over Lumis.

As we come back, Lumis hits a big Spinebuster and then a nice sequence follows from Lumis, ending in a near fall from a Slingshot Suplex.

Lumis sends him to the outside, LA Knight drops him into the barricade and then follows by pushing him into the ring apron. Lumis gets distracted by Indi and LA Knight takes advantage, after it looked like it wasn't going to cost him, LA Knight picks up the win.

Have to say this was average, but let me talk to ya, I am not a fan of LA Knight. That being said, Lumis has been great since day one. I love the angle with Indi, but it didn't make sense here, why after him kidnapping her or taking her to the back are they doing a slow will they won't they situation. Also makes no sense doing that double distraction on him, fool me once fair enough I'd say. Indi tries to reach him for that kiss but The Way come and pull her from the ring, often they say it's best to slow down in love, this is not one of those times!

Winner: LA Knight

Leon Ruff is backstage, recapping the beatdown he gave Swerve and waiting for him to makes his move, ball is in Swerve's court, or 'Lab' if last week is anything to go by.

Io Shirai is getting stitched up backstage, just her clothes by the looks of it though, so let's see what she has to say following losing her NXT title.

Io and Beth recap her winning the title then losing it. She is apparently going to take time off to rest. Franky Monet's pooch comes into the room Franky coming in to retrieve him. She introduces herself to Io and Beth claiming she is going to keep Io's spot for her. Io berates her in Japanese and then says she prefers cats, great ending to an otherwise bland segment.

Breezango vs Grizzled Young Veterans
Breezango sporting the Queens Guard uniforms, looking a right set of tits! Zak Gibson comes out claiming they are ignorant yanks, funny stuff. The fun and games are soooooon to be over though right?

Gibson and Breeze get us started. Fandango comes in with a roll up but no luck on this pinfall. Gibson gains control when Drake gets in the way taking the brunt of a move. He tags in shortly after and Fandango gets Breeze back in a nice double team sequence from them.

Drake then feigns an injury to his knee, allowing Gibson to come in and use a poke to the eye, it looked like. This was well put together from both teams, with both men down Fandango only just makes it for the tag.

Breeze comes in hot dominating both his opponents. Drake almost steals the win with a roll up and Gibson is tagged in. They hit the Ticket to Mayhem and pick up the win!

You just can't underestimate the experience of Breezango and this match showed it! It takes both teams to put on great tag team matches and while this wasn't a favourite, it was a solid bout. This is why we watch NXT, the tag team matches are on point, proper teams too, none of this thrown together nonsense, wise up Vince!

Winners: Grizzled Young Veterans

Indi is backstage with Mackenzie. She wants to tell us, I expect, about the situation with Lumis. But nope, that is not "The Way" this is going to go.

Everyone else arrives to break it up. Bronson comes to interrupt, claiming he stil has eye on the prize. Theory claims he has to go through him to get that shot at the title, obviously Bronson is not fussed. Loved Bronson commenting on them stopping Indi and her "love" with Lumis, great way to get Bronson to stick around and Lumis is still waiting in the wings.

Cameron Grimes is backstage and finds out some bad news, Ted DiBiase outbid him on something, ha nice touch!

Zoey Stark vs Sarray
Ok so not keen on the music for the new girl, definitely doesn't seem to suit her.

A show of respect with a handshake and some nice chain wrestling to start. Stark uses her strength to gain an advantage followed by a nice submission from Sarray, but Stark breaks it making to the ropes.

Some nice elbows to Sarray from Stark and Sarray hits a nice Dropkick that drops Stark on the apron on the outside. A nice exchange followed by a bit of rope work. The Fisherman Buster pin attempt didn't do it for Sarray. Stark comes back, though almost ending it, but Sarray is able to kick out. Sarray hits a Suplex and gets the pinfall. Interesting.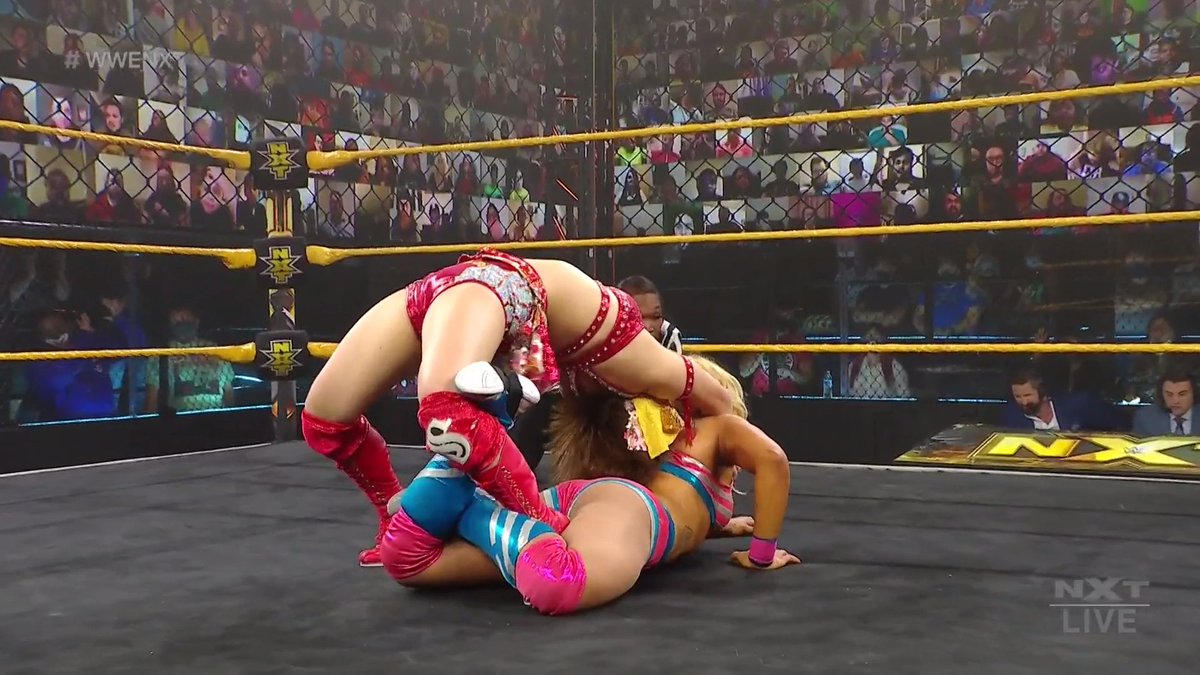 Image courtesy of Wrestling Attitude

So, I wasn't that impressed with Sarray here. I am sure she will get better, but that finish felt a bit weak, they had much better points during that match to end it. They hug it out at the end, Stark bowing out. However she is blindsided by Toni Storm clearly upset with her Takeover loss. Good to see Toni not taking it lying down, was beginning to think she was being left out.

Winner: Sarray

Next up Raquel Gonzalez and Dakota Kai are backstage. Mackenzie wants their thoughts on Io's interview and the challenges that face our new womens champion. Dakota is so good in this segment, she is full of sass and Gonzalez says line em up and i'll knock em down basically. I'm looking forward to seeing who steps up and gets knocked down first!

We see Candice and Indi backstage, Candice planning something to do with the tag titles but Indi escapes and Candice is left alone, Ember and Shotzi drag her through a door and a beatdown is presumably what we hear. I wonder where Indi got to, we did see her going through a door. Index time?

We have a nice recap of Kushida's win last week and the support around the world. Great introduction as he prepares for his open challenge.

Kushida (c) vs Oney Lorcan
Ooooh nice response, Oney Lorcan. Kushida looks to get technical but Oney at first seems to be matching him.

Oney definitely going for roughneck style here trying to grind him down. Kushida uses his speed and ends up locked in another submission, Oney makes it to the ropes and ends up on the outside.

Once back in the ring Lorcan manages to get in control of the match. He again looks close to winning with a blockbuster, but Kushida hangs in there.

Kushida has worked on the arm and it is prime for that Hoverboard Lock but his next move is a Hiptoss Cartwheel Dropkick, then a brief pause, then into the Hoverboard Lock, a submission victory for Kushida and his first successful title defense.

A great match, Oney had a great showing and it was strong booking for Kushida. However, Legado del Fantasma come out with Escobar and attacked him. MSK come to make the save. Nice build for a future 6 man tag match, sorry P-Nut.

Winner: Kushida

Mercedes Martinez is up next, calling out Raquel claiming she is hiding behind Dakota Kai. Cue a match to beat her first, good promo from Mercedes to be fair.

Backstage, we see Johnny Gargano chatting with Austin about the Bronson situation. Candice turns up battered and disheveled. They barely have time to ask before Indi arrives and Wiliam Regal has granted their tag title shot. Candice does not seem impressed.

Ever-Rise vs Imperium
Honestly, having already seen two amazing tag teams, I am a little surprised we get this match and only the inclusion of Imperium could save this match.

It does highlight the strength and depth of this division, I think. Aichner dominates straight out of the gate, Ever-Rise get the first tag but it doesn't help them.

Barthel comes in but only for a moment, as they hit a nice double team move. Killian Dain shows up and is not impressed with the attack. This almost costs Imperium the match, but they steady the ship and continue on to victory. Drake is seen wanting to fight them but Dain appears to take him to the back.

This was definitely filler and possibly build to either a feud or something with Killian Dain. It was ok but Ever-Rise are just a jobber tag team for me.

Winners: Imperium

Oh looky as Kyle O'Reilly makes his way out to the ring, Karrion Kross is at the entrance. They stare at each other and as he leaves, Karrion is smiling. Great first opponent for him in my opinion, he needs opponents who are great in the ring, because let's face it he isn't particularly entertaining to watch on his own.

Hopefully they will show more of his skill going forward am sure it is there underneath the boring moves he uses to hide his talent.

Oh and what did I tell ya, 6 man tag match next week, can they convert our quizmaster? Tune in next week to find out! In fact, you might want to keep your eyes on our socials, I have an idea.

Kyle O'Reilly vs Cameron Grimes
They lock up and the difference in ability is clear early on. I love seeing Grimes try to match him and barely getting control of the match.

Kyle is constantly using his technical ability to grind down on Grimes. Grimes almost gets a pin but O'Reilly gets the Armbar instead and Grimes manages to escape to the ropes.O'Reilly gets dumped on his injured neck with a German Suplex but falls to the outside, no follow up from Grimes here.

Picture in Picture next guys, woooooo! Grimes continues his spell of dominance, bringing Kyle back in to the ring. A strong Irish Whip into the corner. As we return to full screen action Kyle looks to be fighting back. Grimes drops him with a Clothesline though and he is forced to kick out of a pin.
Grimes has a Crossface locked in, Kyle gets back to his feet, he knees Grimes and then begins his comeback, a flurry of strikes. He almost gets the Heel Hook locked in but Grimes rolls to the ropes.

Another submission from Kyle as Grimes looked to be taking back control, O'Reilly releases it to hit a knee, somehow Grimes ends up getting a pin after a Spinning Slam out of nowhere.
Grimes again gets a pin reversing a submission, somehow Kyle kicks out. Grimes hits a Spanish Fly and Kyle again has to kick out. Another nice sequence follows with O'Reilly dropping him with a Clothesline off the ropes. He then goes for high risk, hitting the Diving Knee off the top just like he did against Adam Cole, leading to a pinfall victory for Kyle O'Reilly.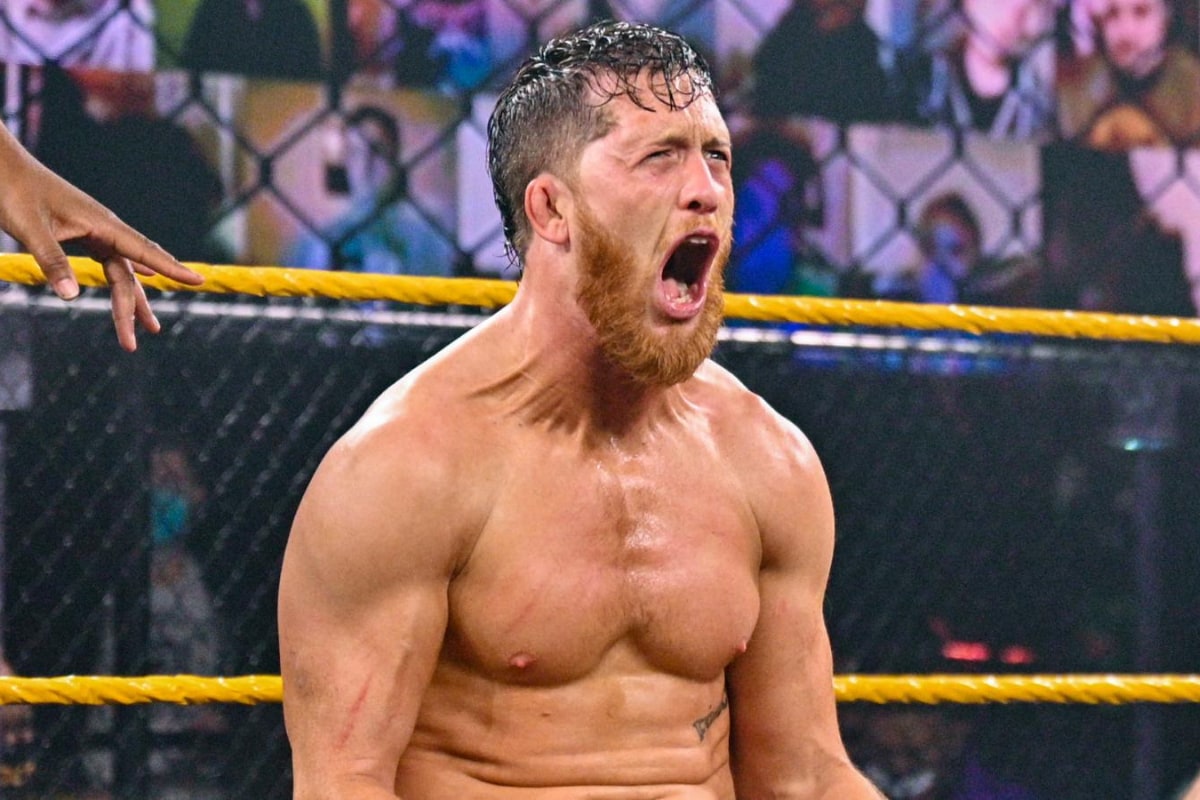 Image courtesy of News18
This match was a bit of a snooze fest to start with. However, it really got going towards the end. It seemed like Kyle was dominating too much early on, then Grimes suddenly comes back seeming like he is on O'Reilly's level. Personally I think it should have either been straight out Kyle dominating, or fairly even. Who knows maybe they couldn't decide either.

Winner: Kyle O'Reilly

Well that concludes NXT this week guys. I quite enjoyed it, due to my own work I ended up giving NXT the "First watch review" treatment, so it was kind of nice to note my full reaction as I watched and write it all down for you as I go. I particularly enjoyed the stuff with Lumis and Indi, the humour involved with some of the segments just gives the fan that light entertainment element outside of the in ring action. What did you think of this weeks NXT?

I'm Pixc and I'm out!