Real Rasslin Reviews: WWE NXT 18th May 2021
Pixc gives us the roundup of this weeks NXT!
It's that time again guys, Pixc here with another week of NXT action. We have a cage match tonight, you all know what I'm expecting so let's get started!

Get hyped with the new deep brooding "Tonight on NXT" interesting touch.

Toni Storm vs Zoey Stark
Zoey looks ready and Toni looks unimpressed, especially with the crowd. A cheap slap from her to start us off, but Zoey pummels her into the corner. Toni escapes to the outside and Zoey lands on her continuing the momentum, no let up from her in the early stages. Toni gets her opening next, throwing Stark into the steel steps and crushing her against them with a running attack.

Stark only just gets back in the ring, Toni takes control next with a near fall from a snap suplex. She slows the match down, using pinfalls to have Stark exert that energy to stay in the match, grinding her down. Stark gets a cheeky pin but Storm remains in the match. Picture in picture next guys, don't forget to eat guys, eat your chicken! I'd say Toni edged this section of the match as Stark was thrown to the outside giving her time to breathe.

As we return to full screen action we begin with a slugfest, Stark building momentum and gets a near fall. Storm looks to change it but ends up getting pinned again, still she survives! Toni turns things around with a german suplex and hits Storm Zero, but Stark is not done yet, she kicks out! Storm then surprises us with something different, not even commentary knew what it was, but it gets the job done, pinfall victory here!

That was a bit random, I like the surprise element but I think a little better could have been got for Toni Storm. She put her over before and still did in this match, maybe a bigger move for the finish would have been preferred for me, what do you guys reckon? Toni didn't have long to celebrate though as Franky Monet hits the stage, bit pointless unless she faces Toni Storm next week.

Winner Toni Storm

Legado del Fantasma are backstage and a match is arranged between them and Tommaso Ciampa & Timothy Thatcher after a brief confrontation. Should be a good match.

Cameron Grimes arrives and asks Jake Atlas I believe, to park his car, Atlas claims that spot is reserved for Ted DiBiase, ooh is he actually going to get some screen time live tonight? Atlas accepts Grimes' challenge for tonight.

The NEW Womens Tag Champs, Candice and Indi are having some spa treatment with eyes covered in cucumber, bigging up The Way when Indi starts slagging off Lumis, not realising he is the one massaging her temples. He looks proper dejected and leaves, poor guy. They copy Theory and Gargano's hand gesture. Loved this segment, though it felt a bit of another tease of Index in fairness.

Remember it's Karrion Kross vs Finn Balor, we get a prime target vignette next. Great build for the match next week but not something I particularly need or want. Staying down is how we die apparently and Finn Balor isn't dead! We do get some predictions from familiar faces, but Heyman is a little weak and cheesy with his too close to call stance.

Jake Atlas vs Cameron Grimes
Grimes is pissed about being embarrassed by Ted DiBiase and plays a video package of his rival getting beaten up and pinned etc over the years, it kind of backfires, but the fake crowd noise made it feel kind of weak. The match starts with Atlas forcing Grimes to the outside. Atlas uses his pace and agility but Grimes counters with his smashmouth style.

Grimes points and to the moon is heard in the arena, he continues his momentum before Atlas turns things around. Atlas hits a nice german suplex and Ted DiBiase shows up arriving to NXT backstage. Atlas gets a near fall off a clothesline.

Grimes hits his spanish fly out of nowhere. Looking for the cave in, but Ted DiBiase shows up, Grimes is distracted and Cameron Grimes is rolled up by Atlas for a quick win. Brilliant if predictable finish. Grimes goes to find DiBiase. He finds the limo and knocks on the door, the window is wound down and DiBiase ribs him before driving off. Loved this great build hopefully to a pick your poison match where DiBiase picks his opponent.

Winner Jake Atlas

Bit of build next for Bronson next and his cage match title opportunity later.

Pete Dunne sat backstage, talking about what's next? Very sitting on the fence, this didn't feel like the right way to go, even the question involving the fans felt a bit bizzare considering he is trying to be a heel from what I have seen. Confusing for sure.

Alexander Wolfe vs Killian Dain
Wolfe and Dain used to be partners in Sanity so this one could be interesting. Dain takes control, but Aichner gets on the apron, Drake gets involved and is dropped to the outside. Barthel tries to get a chair into the ring, but the referee spots it. Wolfe grabs the chair anyway and Dain hits a crossbody splash, one two three, it's over.

Drake is elated and joins Dain in celebration, Wolfe is then helped up by his team mates, before they salute and drop him, clearly he is being kicked out of Imperium. I believe he has actually been released from NXT and WWE. Quick match just to facilitate Wolfe leaving, build Imperium story and in fairness I'm intrigued but it was definitely a bit of filler.
Image courtesy of Superluchas

Winner Killian Dain

Next up Raquel Gonzalez is with Dakota Kai talking to Mackenzie. They touch upon a disagreement about Mercedes, apparently Kai would have kicked her head off. They say they are going to focus on getting the womens tag titles back. Interesting, Ever-Rise show up with their mugs. They plug their show, which I am sure nobody cares about. One of them goads Gonzalez into hitting them and she obliges, simply pointless and did nothing for Gonzalez and Kai once Ever-Shit turned up, you release guys like Alexander Wolfe, Mickie James, Peyton Royce, split teams like Tucker and Otis, just to keep these guys? wow, just wow!

Tommaso Ciampa & Timothy Thatcher vs Legado del Fantasma
Excited for this one. Wylde gives Ciampa the run around the ring early on. Ciampa drags him out, does some damage then they return to the ring. Thatcher and Mendoza in next, the submission offense from Thatcher in the ropes and then makes a tag to Ciampa. Mendoza manages to fight out of the corner after some irish whip action. Ciampa pulls him back though and the tag is made.

Thatcher in control, Mendoza fights back a dropkick to the knee allows him to go for the tag but it ends up dragging Wylde in and we get a double submission. We get a new rule as apparently now if two men are in the ring at the same time the roll ups that followed can't result in a pin, booked yourself into a corner there guys.

Ciampa building momentum next with running cclotheslines for both his oppoonents. A nice double team follows from Legado del Fantasma. Ciampa is in the wrong part of town as the tag to Mendoza is made. Mendoza taunts Ciampa and flies right into the ring post as Ciampa escapes. Thatcher comes in off the tag and dominates with some nice suplexes. Quick tags and nice double team action as Mendoza is in trouble. Mendoza dodges and manages to give himself a chance, a nice counter, somehow Ciampa ends up their corner for some reason and eventually the tag is made to Wylde.

Wylde is distracted by Thatcher thinking Ciampa is down, he comes back to the ring to get hit by Willows Bell. He is rescued by Mendoza though. We next get a run in from Grizzled Young Veterans who drop Ciampa on the ring apron before throwing him in the ring, Legado hit a double team move for the win.

Interesting choice of booking for this one, maybe they beleive MSK winning in their first ppv title defense is best served against Legado del Fantasma. I quite like the idea of a tag team turmoil with the champions coming in last, but the divison looks strong either way.

Winners Legado del Fantasma

Bobby Fish is backstage with Mackenzie next, he wants Pete Dunne, last week had nothing to do with Kyle O'Reilly, makes sense, should be good, don't see Bobby Fish as a solo star to be honest, but he can go and Pete Dunne does need a filler opponent.

The Way becomes clearer for Indi as Candice's credit card bounces, revealing that she bought flowers, it was her not Austin, all along. Brilliant stuff. Oh dear. Great segment, it's followed up by Johnny Gargano and Austin Theory hyping up for the North American Title match later, Johnny is going to stop the unstoppable.

Aliyah vs Sarray
Sarray shows a sign of respect, but Aliyah gets straight to business. Jessi Kamea provides another chance for her team mate to take control grabbing Sarray from the outside. Sarray kicks out of a pin, then takes a strike before firing up with a kick dropping Aliyah for a near fall. She hits a dropkick from the top, follows up with a dropkick against the ropes and a suplex. There's the pinfall, another win for Sarray.

Not going to lie I have not been impressed by Sarray yet. She has been billed as a big star and such a talent but she feels very generic in the ring, nothing special, hopefully she is being slowly introduced to the NXT style and will improve and be given more freedom.

Winner Sarray

Ember and Shotzi have a few words for the two tag teams currently mentioned in the title picture at the moment, it ain't over for them, they take their shots and the tuning up reference was a nice touch.
Next up we have Hit Row, Ashanti Adnois is apparently the other guy in the group, ah makes sense as he missed out on the Dusty Rhodes Classic and they repackaged him it seems.

Hit Row vs Tony Nese & Ariya Diavari
Tony Nese shows great agility and athleticism early on but ends up in the wrong part of town and Top Dollar comes in to dominate their opponents. He drags Diavari into the corner to make the tag. Diavari fires up but Adonis gets the advantage. Adnonis seems to lose his temper but Top Dollar settles him down and finishes the match in quick fashion.

This is something to keep an eye on guys, I don't like the as we british say "Chavvy" faction much, but they could provide some interesting dynamics, the woman intrigues me, she should with her physique do well but she feels very valet, maybe its the fact The Way has two women and factions have usually had one, with it being a valet. Intrigued but not sold.

Winners Hit Row

Next up William Regal has some things to say about the title pictures across the board. He says we will see Raquel & Dakota vs Ember & Shotzi next week, he is looking to see who will challenge for both the cruiserweight and womens titles in the near future. Legado del Fantasma get their tag title shot in two weeks time. Bit deflated after that announcement, Regal. Nothing big, but it's time peeps, for your main event!

But in typical NXT fashion before we get to that don't forget Franky Monet is debuting next week, should be good, but that's not all Ted DiBiase and Cameron Grimes have a Million Dollar Face Off and don't forget we have our rematch for the NXT championship!

Johnny Gargano (c) vs Bronson Reed (Steel Cage match for the North American Championship)
Breaking news guys, remember that pencil Gargano snapped last week, apparently it was William Regal's favourite one, ohh hold the phone!
Gargano squares up during the introductions and Bronson floors him with a shove! Gargano dives straight for the escape, that was smart but no cigar, Bronson grabs hold. Beth takes a pop at Barrett for losing cage matches. Bronson seems too much early on for Gargano. Bronson gives Johnny a taste of steel dumping him into the cage. Bronson's next trick, he crushes Gargano into the cage, he goes for the spear after Bronson tastes the cage but he gets caught by it and Bronson gets a DDT instead.

Gargano dives off the cage knowing he wouldn't make it out. Bronson then on the second attempt pulls him off with a samoan drop and a near fall follows. Bronson looks to climb, lord knows why? Austin intercepts him and Gargano drops him on the ring ropes. See, stupid Bronson, makes no sense why he would try climb over top. Picture in picture next, get your coffee guys! Remember to listen up, do what they tell you! (God, I hate adverts.)

We all know nothing major is going to go down in this semi break, but Gargano is gloating doing a bit of a damage and taking control of the match. Gargano is grinding the big man down, it seems. A strange double team ensues as we return to full screen with Austin attacking Bronson from the outside as Gargano attacks inside. Nice move, this.

Bronson comes back with some brute strength, then, catapulting Johnny into the cage. I'm surprised he didn't climb it. Then he climbs to the second rope and samoan drops back into the ring. Looks like Bronson was too slow to cover and Gargano survives for now. Bronson again looks to climb for the escape it seems, Gargano comes over and works on the apparently sore knee, he then hits a powerbomb on Bronson, but it isn't enough.

Gargano crawls for the exit and Austin pulls him towards it, but Bronson grabs hold and pulls him back in, Austin then blocks the way for Bronson but takes a fall for his troubles. Bronson is then hit with a superkick as Gargano manages to recover. Gargano manages to reverse into a poison rana but he is unable to follow up. Gargano looks for one final beat DDT but Bronson dumps him into the cage. Next Bronson is about to escape but Austin helps the refree close the cage door in his face. One Final Beat DDT, but Bronson is still in it.

The two battle on the top turnbuckle and Bronson is first up follow a powerful landing. Bronson looks to escape, he climbs but is accosted by Theory and Gargano, shortly after though he gets a splash on Gargano, looks to the door but shuts it and hits a Tsunami off the top turnbuckle. Pinfall victory, one, two, three.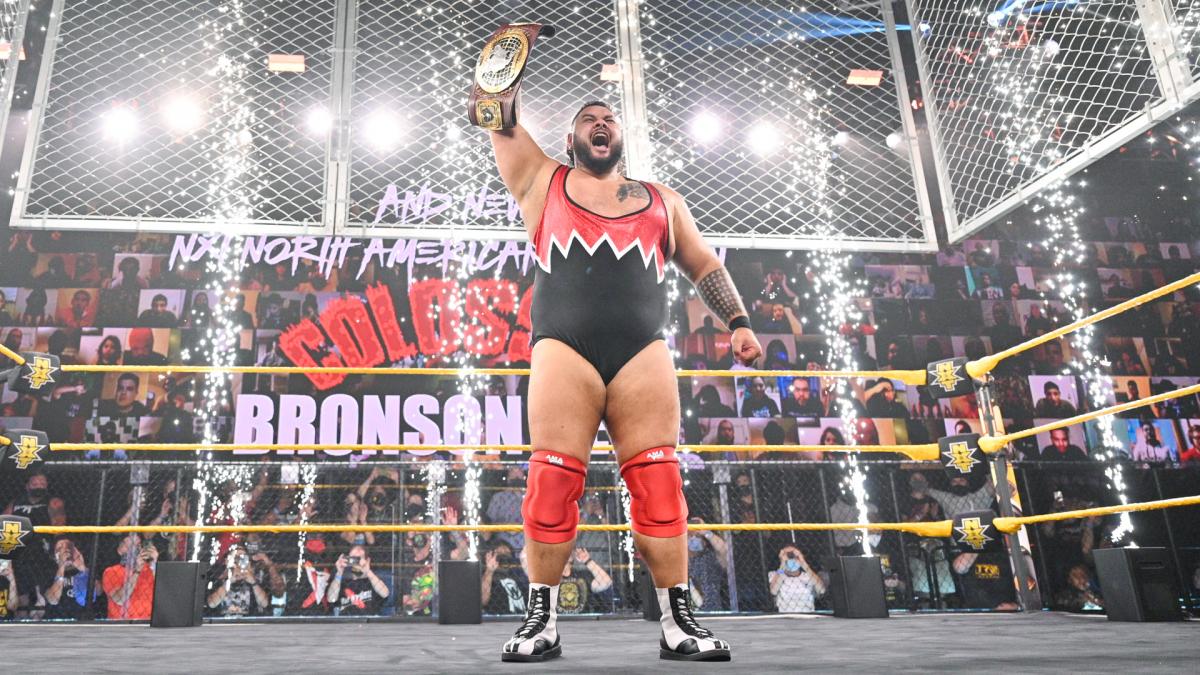 Image courtesy of Wrestling Inc

I must admit I was certain Gargano wouldn't drop the title yet Well there is a turn up for the books. Pleased for Bronson Reed, not intrigued by match ups for that title going forward then. Gargano likely to move his focus to the NXT Title soon? We shall see.

Winner and NEW North American Champion Bronson Reed

In summary for me this was a good show but again nothing special, I enjoyed it, but nothing made me think "I have to recommend this to someone."

I particularly like the build that is going on all over the show but for me something seems lacking. I think Sarray needs to face better opponents as she didn't look great against Aliyah, well I feel someone better would bring the match quality up. I am looking forward to next week, Pete Dunne vs Bobby Fish could be a sleeper!

Well I'm hoping you all enjoyed this weeks NXT take from me, I had a blast writing it and I will be back next week for another edition of NXT.

Pixc Out