WWE NXT 16th November 2021
16th November NXT
Pixc here, back with another round of NXT. Straight in this week with Tony D'Angelo in action.
Tony D'Angelo vs Dexter Lumis
Dexter reveals a drawing on his way to the ring, D'Angelo sleeping with the fishes, nice call back to D'Angelo sending him a fish through Indi. Should be an interesting match. D'Angelo starts by running outside the ring, Lumis chases him and D'Angelo gets some stomps in. Lumis takes hold of the match next putting him in the corners for some strikes. D'Angelo responds with a belly to belly and turns things back in his favour.
D'Angelo talks trash and almost gets silenced fighting out of the hold, not once but twice, fairly quickly. The last time dropping Lumis on the ropes, he then gets the easel from ringside which distracts the referee. He pokes Lumis in the eye and hits his fisherman's neckbreaker for the win. Decent match, building Tony D'Angelo well, and the cheap finish saves Lumis a little.
In the aftermath Trick Williams and Carmelo Hayes come down and attack Lumis, whilst D'Angelo shrugs and looks on, the crowd chanting for Johnny Gargano. Carmelo puts a chair around the hand of Lumis, then dives on it from the top rope before Gargano comes racing down to the ring with referees. Surprised they actually let that happen rather than Gargano making the save but we'll see where it goes from here. Overall, an average match with a bit of build in the aftermath, it started well but got worse as it went on for me.
Image courtesy of Zona Wrestling

Winner Tony D'Angelo
Johnny Gargano has now picked up a microphone, so he must have done a U-turn and left Indi to look after Lumis. He wants Carmelo and it's personal, have to say this is where I expected it to head, but it's Pete Dunne who comes out and tries to stop this jumping of the queue. Well, they do say we British love a queue! He reminds Gargano that he pinned Carmelo and Gargano reminds him with his help. The crowd don't seem to like Dunne and it seems to throw him a little. Carmelo and Trick appear and make jokes about them bickering over who gets the title shot. Carmelo says he will take them both on, Trick tries to stop him, emphasising the stupidity of the move, but Gargano and Dunne seem ok with it. I particularly liked Gargano turning Carmelo's catchphrase against him somewhat, claiming next week you don't want to miss this match! I have to agree.
Diamond Mine up next as Malcolm Bivens is talking up their unity and match up later tonight. Joe Gacy interrupts them though, he has a sinister look in his eyes that I think spells Haarland might be getting his debut, well I hope so anyway.
LA Knight is talking to us next. I'm a megastar bla bla bla! He is building his rivalry with Grayson Waller. He's a great talker I'll give him that, I have no interest in him facing Grayson Waller though.
Diamond Mine vs Jacket Time & Odyssey Jones
What a combination that is, still a horrendous team name though you can't deny, it must make people laugh or at least Vince. Jiro starts with strong and before it gets properly going,!Strong goads Jones by chopping him, then immediately tagging out. Julius comes in and some quick tags have the Diamond Mine representative in deep water. Jiro however is easy to flip the switch on and Brutus is soon tagged in.
Kushida comes in next and the pace quickens. He singlehandedly takes on Diamond Mine then gets blindsided by Strong. Oh goody picture in picture, hope you've eaten guys, because there will be food adverts. Strong maintaining his grip on the match it seems as I squint at the action. Kushida manages to get the tag to Jiro. Back to full screen with Jiro turning things around.
Spoke to soon, Brutus is in and Jiro is down again. Finally Jones is tagged in and he gets hold of Roderick Strong. He dispatches the Creed Brothers, then Strong hits an Olympic slam of sorts on Jones. After he is somewhat distracted by Jacket Time, Jones ploughs in with a cross body and squashes him for the pin. Unexpected victory here for Jones and Jacket Time.
As they laugh at Diamond Mine I'm left wondering what the purpose of this match or win was. Jacket Time being a tag team, Diamond Mine holding the cruiserweight title with Roderick Strong but Odyssey Jones is clearly not going for that title, so what's the point. Not a bad match but pointless really, aside from Jacket Time having a rivalry of sorts with them where does this go though? Answers on a postcard to Vince McMahon, I'm sure he could use them because he clearly has no idea.
Winners Jacket Time & Odyssey Jones
Grizzled Young Veterans are on another con, NanaCon. they have borrowed Toxic Attractions tag titles to try get some inheritance off Zak Gibson's nan, again not really thinking these angles through if you ask me, but it was funny and I saw online people were happy it isn't more "Soon to be recognised …." bullshit.
Before we get to the next match MSK are going through airport security, panicking about the scanning of the bags, they aren't on the same flights for some daft reason. They are going to find The Shamen apparently!
Andre Chase vs Xyon Quinn
Quinn looks set for an easy win, Chase does have some fight early on but it is quickly squashed as Chase could easily be seen to be begging for mercy. Chase gets a neckbreaker after dodging a charge from Quinn. Chase has Quinn grounded and looks better before getting dropped by Quinn. He then gets slammed for a quick and easy win for Quinn.
Straight after the bell rings, Legado del Fantasma attack him, Wylde and Mendoza. He gets the better of them, but Santos Escobar makes his return, surprise! He attacks Quinn from behind and then Elektra Lopez comes over and tells Quinn "No one says no to Elektra Lopez!" Quinn is then dropped on the steel walkway, owch! Barrett adds he wouldn't say no to Elektra Lopez.
Winner Xyon Quinn
Raquel Gonzalez is backstage getting hyped for her main event match vs Dakota Kai. She has lost a lot of sleep over losing her title and it's all Dakota Kai's fault. She asks her to bring the shovel so she can bury her with it, nice promo but this should be at War Games if you ask me, full circle ya know!
It's poker time! You get the rules laid out and we have a dealer sat between the two players. Cameron Grimes and Duke Hudson. Curious to see how this plays out. Cameron Grimes has decent cards but not a winning hand. He plays Duke who only has three of a kind it seems, but Duke thinks he has the flush again and he folds. Grimes laughs at him and Duke is livid revealing he had nothing, before he cuts some of Grimes' hair and beard. So that is how they change Grimes, hair cut potentially?
Von Wagner is working out backstage when Kyle O'Reilly approaches him. He comments on Von Wagner being on smackdown, says he isn't worried about it and I smell Vince trying to get eyes from NXT on to Smackdown and vice versa, not a bad idea but either way they are about to handle business.
Jensen & Briggs vs Von Wagner & Kyle O'Reilly
O'Reilly starts off with some high kicks to Jensen. Jensen and Briggs eventually get some offense in and both pose on the outside after a double team. We see Imperium looking on as the match continues. Von Wagner and Briggs lock up in the ring. The two big guys collide off the ropes and then slug it out with Von Wagner seemingly getting the upper hand. O'Reilly comes in and works on the arm of Briggs. Then goes back to the kicks. He even sneaks one in on Jensen before the tag is made. Jensen and Briggs then keep their momentum going in the corner. Near fall follows as O'Reilly kicks out.
Jensen has O'Reilly in a bearhug next. Briggs tags in and continues with the same move, then Jensen comes in and Kyle manages to break out of this bear hug sequence. Von Wagner is in as he slams Jensen down, then Briggs is low bridged by O'Reilly and Jensen gets pinned by Von Wagner. It all happened so fast! Back on track for a tag title shot then after the recent controversial loss. Imperium not convinced they are a threat.
Winners Kyle O'Reilly & Von Wagner
Indi is worried about her man. They are sending Dexter to a medical facility. Persia says she can handle things here, must be a singles match or is she going to find a partner? Bit confused as to what is going on here.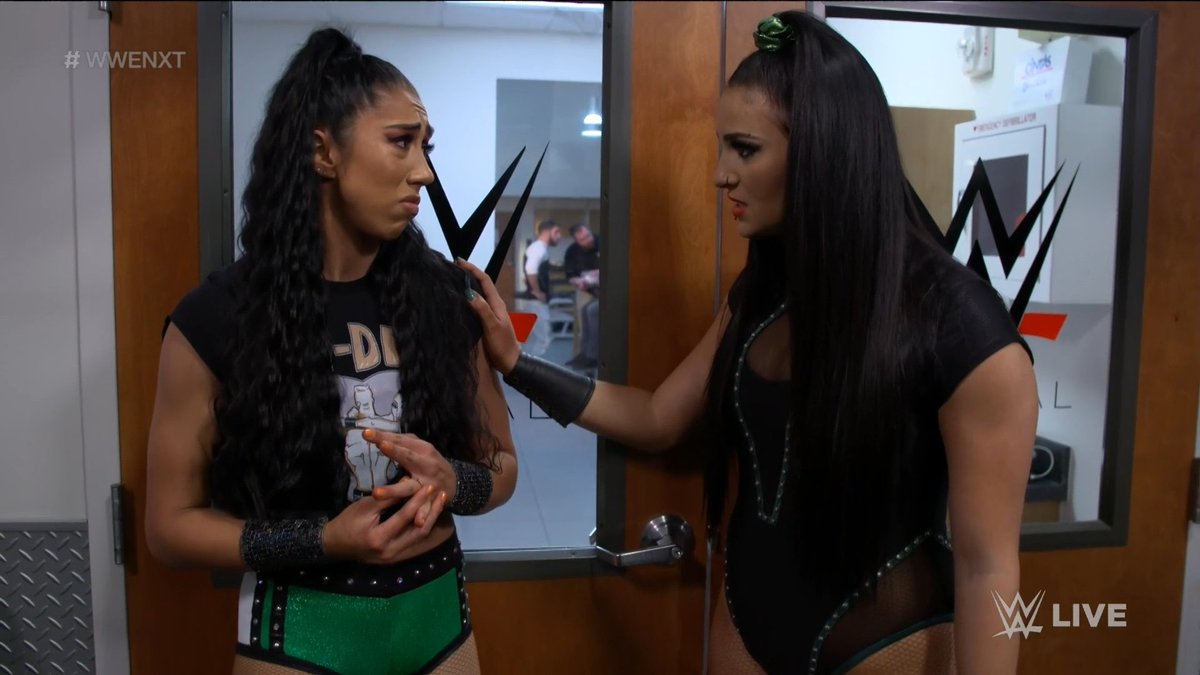 Lash Legend is having her show, commenting on Kay Lee Ray. She seems concerned KLR is in over her head, but Grayson Waller interrupts and with a little persuasion she lets him on the show. Grayson is saying its not about wins and losses anymore it's about how many likes and how many followers you have. While I do agree, if you don't ever win ain't nobody got time for that! He claims the game has changed and it's his game.
Persia Pirotta vs Toxic Attraction (handicap match)
Bit strange to do this, surely Persia must come out looking great or this feels a waste of time. Has Vince got the bug again and is splitting the new team up? I'm a little worried but let's see where it goes, supposed to be a tag team match.
Persia locks up with Jacy Jayne, but then is distracted by Robert Stone. Persia doesn't seem phased by the numbers advantage. She stacks Toxic Attraction on her shoulders and dumps them to the mat. She then lifts Jacy Jayne up again in a reverse falcon arrow like move, pinfall and a dominant win.
Glad she won, but it was a bit quick and felt like they didn't have a clue what they were doing, no attempt to find a partner either. Toxic Attraction didn't even look like credible tag team champions, it definitely feel like this hurts them and makes Persia look like she should have walked that ladder match and won the belts for her team.
Winner Persia Pirotta
Next up Dakota is a bit cuckoo, scaring McKenzie with her talk of shovels. She wants to finish things tonight. Mandy Rose and Toxic Attraction, who have already changed like lightning, approach Dakota. And makes a comment about them owing her twice and Mandy said they let her go. Grizzled Young Veterans finally show up to give them the women's tag titles back, they were not impressed.
Tommaso Ciampa is backstage about to address the new crop of talent, but he gets angry and decides to do it in the ring. I liked that. He gets to the ramp and he's here to vent. He slates Carmelo Hayes and Grayson Waller but is interrupted before he slates Tony D'Angelo. Bron Breakker is here to tell him he's not done. Nice mention of Steiner maths by Ciampa, then a look at Ciampa beating Breakker, Ciampa is not worried it seems about Bron Breakker as he leaves with Breakker saying he is living rent free in his head.
Dakota Kai vs Raquel Gonzalez
Still not keen on the lime green outfit but Gonzalez still comes out swinging like a badass. Dakota looks like she is going to struggle. Dakota is barely able to get a shot in. Gonzalez is just having her way with her, before Gonzalez then gets Kai up on her shoulder but shortly after makes her first mistake, charging into the corner as Dakota Kai dodges it. Then it's your picture in picture extravaganza next, more Sonic Espresso and food adverts. Meanwhile Kai gets a near fall and as we return to full screen she is in control.
Another near fall as Gonzalez powers out. The two are dancing with danger on the top rope, before Kai falls to the outside and Gonzalez fails to get up when she falls into the ring. Another near fall for Kai, that didn't make a lot of sense for me. Gonzalez hits her with a two handed choke slam. She hits a fall away slam and the bottom turnbuckle is torn away, she then hits a splash from which leads to a near fall. She then looks for the Chingona Bomb but Kai escapes and gets a weak cover followed by a crucifix pin, no luck for Kai. Gonzalez then comes back looking to lift Kai up and this is where she is dropped into the turnbuckle, bit cheap if you ask me, wasn't a surprise.
Kai then goes for the shovel swinging but Gonzalez topples her with a boot. This looks the end but Toxic Attraction attack Gonzalez and cause the no contest or DQ, nobody cares or says anything regarding this so I'm making it a no contest for our James! Dakota and Toxic Attraction beat down Gonzalez, bit weird considering their interactions lately. Gonzalez gets some surprise help from Cora Jade though, then Zoey Stark's music hits and she hobbles out on crutches. the commentary team are laughing, but she didn't come alone. Io Shirai's music hits and she comes to the ring to even the odds, not mathematically but it turns the tide. The crowd chanting War Games and Io obliges at the end "WAR GAMES!"
No Contest
This is a brilliant set up though they might need someone to stand in for Zoey potentially. I like the teams but again, I am annoyed that the women's champion and women's tag champions are likely to be involved in it. So, no title matches on the card, hmm. Love how Io grabbed the crutch though.
I thought this week's NXT was another decent show. Nothing is standing out much and when it does it feels like it's always the comedy. Brilliant to see Cora Jade mixing it up with the top women. Loved Grimes as usual and a nice match to look forward to next week with the triple threat for the North American Title match.
image courtesy of F4WOnline
See ya next week folks, Pixc Out!