Real Rasslin Reviews: WWE NXT 30th December
The last NXT review of the year
Well guys, we made it. The end of 2020 is here, this is my last NXT Review of 2020. We are getting what promises to be a good tag team match tonight between Breezeango vs Grizzled Young Veterans. Mercedes Martinez is in action and apparently Isaiah Swerve Scott is going up against Bronson Reed, all I can say is why on that one? Plus an old rivalry reinstated as Pete Dunne vs Roderick Strong which I expect will be a highlight.
Bronson Reed vs Isaiah Swerve Scott
We kick off tonight with a bit of a mismatch of styles, so who knows how this will go. Swerve struggling with the size difference, Bronson takes control of the match and the action spills to the outside. Upon gettin back in the ring Swerve baits in Bronson as the referee claims he is hurt and backs up Bronson, a nice shot to the leg, trying to chop the big man down. Swerve then hits a top rope move but only gets a near fall. Reed goes for a powerbomb which Swerve escapes then catches the attempted to kick, works on the leg some more in the corner but when he hits the flatliner Bronson kicks out. Working on the left knee of Bronson but when he gets up Bronson looks to be firing up. Bronson reverses Swerve's attempt at a pin and sits on him for a near fall. Swerve ends up getting to the ropes and hitting the reverse headbutt but Bronson doesn't go the same way of Atlas from this point hitting the Tsunami splash from the top for the win..
This match was pretty good to say they don't feel like they would work together, Bronson's agility seems to help make it work. I also think there is no direction for these two at the moment, just going through the motions it seems. Hopefully they are building someone, felt that we should have had Atlas interfere or attack Swerve after the loss.
Winner Bronson Reed
Breakout Star of the Year Award
Shotzi wins this. Really pleased for her and rather good pick. Felt the options on the men's side were too closely matched for me.
Leon Ruff is seen arriving earlier today with Jake Atlas. He has a big match vs Johnny Gargano for the North American Title, can he keep the curse going, or will "The Way" keep it on the straight and narrow.
We then see "The Way" backstage, they look towards a door and there is a black cat lurking. Obviously these are a symbol of bad luck so they say. Johnny makes a point of this and thinks the cat is mocking him. Great segment and I think for me this solidifies the curse will be lifted tonight, Gargano to retain for me.
Breezeango vs Grizzled Young Veterans (GYV)

James Drake and Tyler Breeze start off traditional lock up headlock takedown. Breeze takes the upperhand, this is very different from him as he tags Fandandgo in. They are working on the arm, Drake manages to tag in Gibson and Barrett bigs up the former NXT UK Tag champs and an announcement about Dusty Tag Team Classic Returns in two weeks, plenty of teams, intrigued to see who competes in this. Drake hits a slam and attempts a pinfall but gets nothing. Drake traps Breeze in the corner who reaches for the tag, really from the opposite corner? Well Gibson comes back in and Breeze somehow slips out of the double team suplex, pushes Gibson towards Drake and get the tag. Fandango comes in, fires off a few shots to both opponents, inverted atomic drop on Drake and then Gibson takes over Fandango manages to get a pinfall but Gibson kicks out, tag to Breeze. A slingshot from him however ends up putting Fandango on the outside, Gibson managing to use it to get a pin, which he awkwardly has to try not to grab the ropes for leverage, this was really well done. Then he ends up on the outside from the kick out. With GYV on the outside, Fandango dives out from the top, taking both out but clearly hurting himself. An innovative double team move on the outside by GYV, working on the knee of Fandango. Fandango sits atop the turnbuckle and Gibson dragon screws him to the mat, the pinfall is unsuccessful and the second one no better, Breezeango still in this. Gibson with a scoop slam on the ropes, damaging the legs. Drake is taken to the outside, realising this Gibson grabs him puts him back in the ring and makes the tag, this was great. However, he immediately goes to Breezeangos corner and risks it anyway and sure enough Fandango slips through his legs and makes the tag. Obviously this is how it's meant to go but one point where I think it didn't make sense to really have the spots right next to each other. Breeze comes in on fire, taking GYV out with a couple of corner splashes he then puts both outside the ring, Fandango ends up diving on to help out. Gibson takes him out throwing him into and over the steps. Gibson is tagged in and Breeze attempts to fend them off. He get hit with Ticket to Mayhem and that's it, GYV are the winners.
Great match, both teams had a good showing, GYV appear to be on a push. Apart from the hot tag mentioned earlier I think it flowed nicely too. Expect these guys to be the favourites in the Dusty Classic
Ever-Rise appear to want to get involved, screaming at GYV from the top of ramp with a single referee trying to hold them back, soon as GYV step out of the ring to come face them, they cower however and walk off, good character building with Ever-Rise, not a fan but its different.
Winners GYV
Image courtesy of TWNP Wrestling News
Tag Team of the Year
Undisputed Era well deserved, feel like it has been lacklustre up until recently the division needs a bit more focus and upon winning this Adam Cole and Roderick Strong will be entering the Dusty Classic.
Another vignette on Boa and Xia Li, more action shots followed by a woman marking them, very eerie with a note that next week they will be here. Interesting.
Mercedes Martinez vs Valentina Feroz?
Mercedes is obviously about to squash this unknown wrestler. She looks in control from the start. Feroz manages to get a sleeper on but Mercedes reverses and talks trash to her, she just seems to be imposing her will and its an air raid crash for the win, simple straight forward, not terrible for a squash match, but I do wonder why they insist on these for people who are as talented as Mercedes Martinez.
Not much to say on this, but we will wait and see what happens going forward.
Female Competitor of the Year
Io Shirai short and sweet with her speech, thank you for voting for me, best of the best, apt as I think it is the best womens division in WWE for sure if not wrestling.
Male Competitor of the Year
Adam Cole, deserved and he talks about how he couldn't do it without his boys, he also mentions how much Kyle O'Reilly winning the NXT title will mean to him too.
Overall Competitor of the Year
Stating we can vote now, personally think Adam Cole will win, I hope not as Io deserves the nod with Adam Cole currently not holding a title and not even competing for one.
Pete Dunne vs Roderick Strong
Strong takes down Pete Dunne down as the match starts, some running off the ropes ends with Dunne down from a clothesline. Dunne then gets Strong down with headlock, a nice dropkick to Dunne from Strong. Dunne counters into a submission following some nice offense from Strong. Dunne working the digits as usual. Strong manages to use his strength to lift Dunne up and dumps him on the ropes. Strong hits some nice chops then as Dunne is down he elevates Strong out of the ring, the action continues on the outside, however as we enter picture in picture, Dunne gets control they end up on the top turnbuckle and Dunne hits his signature kick with Strong on his knees, he then stretches Strong out and takes him to the corner. As we return to full screen they are slugging it out in the centre of the ring, Dunne however whips Strong into the corner hard and resumes wearing down Strong. The pace picks up again and Strong hits a dropkick. the two slug it out then Strong gets momentum going slamming strong who gets up in the corner. A nice flurry follows where he comes off each side of the ring hitting Dunne as he passes him. With Dunne on the outside, Strong looks to continue his offense but Dunne get's control. He wastes time after and after breaking the count Strong reverses the attempt at the bitter end on the apron planting Dunne back first on the apron hiimself. A near fall results as he rolls back in the ring. Dunne gets a cheeky roll up next but Strong kicks out. Strong's attempt at a backbreaker is countered into a triangle and then Strong gets the backbreaker, another near fall here. Dunne rolls through and stomps Strong, he looks for the triangle but Strong fights out of it. Strong looks for the Stronghold, Dunne fighting back he manages to reverse it by snapping the digits. He then hits the Bitter End of the win.
Great back and forth match, I quite liked the finish too.
Winner Pete Dunne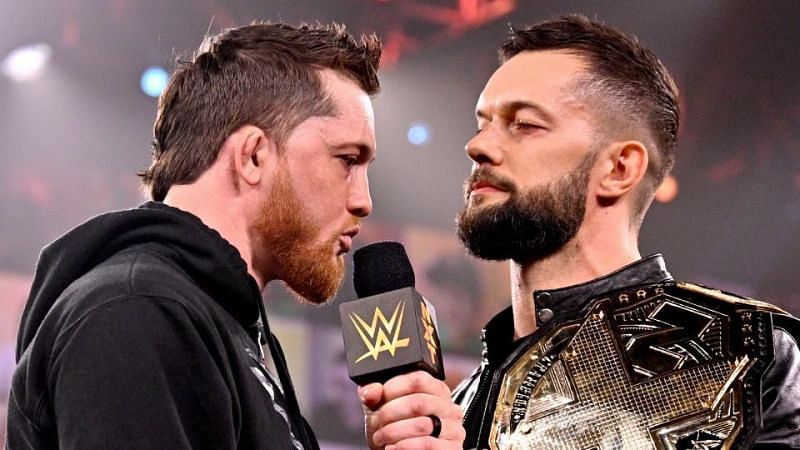 Image Courtesy of Sportskeeda
NXT Match of the Year
Finn Balor vs Kyle O'Reilly for the NXT championship. What?! Well I don't know about you guys, but as good as that match was, it was not Walter vs Dragunov! Obviously America have slept on this match, if you haven't watched the NXT UK title match go find it, tell me that wasn't amazing. Anyway, Finn is with William Regal backstage, claims he doesn't need the award and will give Kyle his himself. Interesting development here. Honestly though think they shouldnt have included NXT UK and given them their own awards as the amount of people watching NXT UK will be much lower and so they don't have a fair shot at winning them.
Finn Balor makes his way to the ring and comes across Pete Dunne, who clearly has his eye on the title. Finn tells him to get in line.
A promo next for the fight pit. Thatcher and Ciampa add some thoughts, can't wait for this next week. Bring it on! Side note nice to hear Mauro Ranallo in this, miss that guy.
Finn Balor grabs the microphone, and lays the award in the ring. He calls Kyle out who interrupts him and comes down to the ring. Finn is saying he doesn't need it and he has the title. Kyle responds with understanding that it isn't the real prize, but its proof he belongs at the top of NXT and then goes on a tirade that he is going to bring the title home with him. He adds he is going to leave the respect at home. Finn responds, all be it a bit sarcastically, that's nice, then he says well I'm going to make you pay, last time we fought you broke my jaw and now I'm going to make you suffer. This was a great confrontation.
Karrion Kross appears and says it doesn't matter who wins, obviously with help from Scarlett. Your destiny is already decided, tick tock. However the camera shows Priest breathing down his neck, Kross asks if he got something to say, Priest says this is how you step like a man. The two then brawl around, ended up in the technical area. Kross ending it putting Priest through a table. Scarlett looks like she is revelling in the carnage.
Next up a look at the Raquel Gonzalez and Rhea Ripley rivalry, they used to be a team. This was really good, I rarely pay much attention to these as often I have seen most of it before, it just feels like a reminder. However this was great it had me gripped. It will be nice however to finish this feud in fairness. Last Woman Standing here we come.
Santos Escobar is in the ring. what a year Legado del Fantasma had. What a year he had. Claims Regal won't find anyone who belongs in the ring with him. Out come Lince Dorado and Gran Metalik, they charge the ring and take Escobars back up out. Regal arranges a little impromptu tag match.
Legado del Fantasma vs Lucha House Party
Lucha House Party in control in the early going hard to keep up with the fast paced offense, Mendoza manages to get the advantage after a sly double team. Tags on both side off the top rope dive from Dorado. Metalik looks in control after this and he works Mendoza, some quick tags, I think the referee got this wrong looked like the illegal guy went for the pin there. Metalik avoids Mendoza and hits a nice reverse hurricanrana. Dorado tags in Metalik though and diving elbow onto Mendoza gets the win.
Nice surprise this, very rare we get that. Maybe I managed to avoid spoilers.
Winners Lucha House Party
Future Star of the Year
Austin Theory, bit of a surprise for me, but I guess his involvement with "The Way" might result in him rescuing his potential. This segment was more gold from "The Way" for me. Candice makes Austin share his award with Indi, which was a nice touch. Then Austin claims Johnny is going to win and break the curse which infuriates him, you can't say the C word. Then he throws the Gargano Whey Protein and it smashes a mirror, more bad luck, oh no. Getting more and more certain that he will lose the title, no subtlety here. Gargano decides to head to the ring, walking under a ladder. Austin exclaims as Candice tries to stop him pointing it out but luckily it seems Johnny is already gone. I am still torn with there promo's its either pure gold or pure cringe, maybe they are trying too hard.
Overall Competitor of the Year
Io Shirai, wow, did not expect that, well deserved, more thanks and it looks like Io was a little surprised too.
Johnny Gargano (c) vs Leon Ruff (North American Championship match)
As the two lock up, Beth comments on the Curse, apologising for using the word. Ruff using his agility to almost getting the win, Gargano goes to the outside to recover, Theory jumps on the apron to afford him a distraction but it doesn't work and again Ruff gets a near fall off a crucifx pin this time. Leon Ruff goes to the top looking to avoid Gargano or lure him in bu Johnny pushes him to the outside, following him to the outside, throws Ruff into the barricade then breaks the count. Ruff manages latch on to the barricade on the second attempt next jumping from their to the ring steps and back. knocking Gargano down with a kick. Momentum in his favour he getss Gargano back in the ring. Austin Theory is lurking causing a distraction for Gargano who takes advantages, throws Ruff into the steps and sits on them. We head into picture and picture here with Gargano continuing his momentum. A nice neckbreaker results in a near fall, Gargano hits his signature rolling kick on the floor. then puts Ruff in a submission. We return to full screen action, Ruff trying to fight out of the submission. Gargano shuts him down, clearly working on the arm. He goes for another neckbreaker but Ruff escapes it. He gets some good shots in including some running strikes. He hits a neckbreaker of his own, a german suplex following a bit of ducking and a corkscrew cannonball in the corner, but only a near fall. Gargano hits a few clubbing blows off the ropes as Ruff ping pongs back and forth, Ruff coming back with one of his own but his momentum is stopped and Gargano hits a superkick. Ruff looked for a crucifix bomb but Gargano reversed into a powerbomb and a near fall results in him locking in the Gargano Escape. Gargano holds on for four as Ruff makes it to the ropes. Gargano puts Ruff to the outside and goes for a lawn dart into the barricade, this is evaded. Ruff hitting a kick after escaping to the apron then a brutal cutter on the outside. Ruff Gets Gargano back in the ring, hits a frog splash but only a near fall, with Austin Theory looking tense at ringside.Ruff has Johnny on the top turnbuckle and is taking his time. Gargano reverses and drops Ruff face first on the turnbuckle. He then hits the one final beat DDT for the win.
While I'm glad this feud is likely to be over, they can really work a great match, is the curse actually over though it wasn't a takeover. Ruff needs to either be part of the Cruiserweight division or facing opponents of a similar size or speed. Intrigued to see where they go from here, who is next for Johnny Gargano, What is next for Leon Ruff.
Winner Johnny Gargano
Dexter Lumis is seen showing us what's coming up next week at New Year's Evil. His doodles looking awesome here is the card for next weeks special event, New Years Evil!
Santos Escobar vs Gran Metalik (Cruiserweight Title Match)
Tommaso Ciampa vs Timothy Thatcher (Fight Pit)
Damien Priest vs Karrion Kross
Raquel Gonzalez vs Rhea Ripley (Last Woman Standing)
Kyle O'Reilly vs Finn Balor (NXT Title Match)
What are your thoughts, got any predictions? Most excited for?
Finally Happy New Year from your NXT Reviewer, me Pixc. Thanks to you for all your support in 2020 and here's to a much better 2021!